A virtual magazine for a true passion!

Editor: Jaap Horst
---
Volume 13, Issue 1b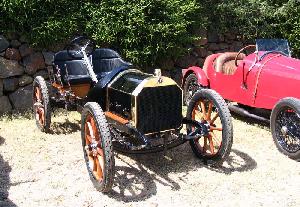 Did Bugatti Pinch Isotta's design?
Pedr Davis 2nd place, the BugattiPage writing contest 2007/2008.

The controversy started in the 1950s soon after Lyndon Duckett acquired a dilapidated 1908 Isotta Fraschini F.E.N.C. found in Geelong, Victoria. The extremely rare car is thought to have reached Australia before 1914 and passed through several hands. When it came on sale, the only other potential buyer wanted to turn it into a V-8 powered Hillclimb Special but, fortunately, Lyndon outbid him with a sixty pound offer and took his prize home. Though not in running order, the little car was complete in every respect, down to the original paint.

Lyndon completely restored the IF and it remained his pride and joy until his death a few years ago. It is now owned by his sister, Mrs Beverley Greig. BCA members who attended GABR XXl in 2006 were privileged to inspect this wonderful machine parked alongside a burble of Brescias. It has a 1.3-litre, four-cylinder, overhead cam engine with integral cylinder head, four-speed gearbox and multi-plate wet clutch. Sounds familiar? Well, let's backtrack a little.

In 1908, Isotta Fraschini unveiled the Type FE racing voiturette with a 1208cc engine. Its light weight, lively performance and purposeful appearance created a sensation. A road-going Type F.E.N.C. version was then produced with a 1327cc engine using a single overhead camshaft driven by a vertical shaft at the front. The magneto was driven via a cross-shaft at the front, as on the later touring Brescias.

Other similarities between the F.E.N.C. and 1909/10 Type 10 Bugatti led to speculation that Ettore Bugatti had designed both cars. 'Peter' Dale – the Melbourne Bugatti owner and motoring historian - suggested this possibility after studying Lyndon Duckett's car and some engineering drawings that fellow historian George McKaige had obtained from the IF factory.

Dale's opinion appeared in The Bugatti Book in 1954. Interestingly, he added: "The steering, roadholding and gear-changing is pure Bugatti." He noted that Isotta Fraschini's placing of the overhead valves in detachable cages was similar to that of the Bugatti-designed Deutz. He also mentioned the deeply spigotted block, bevel-driven overhead camshaft and the use of a transverse shaft to drive the water pump and magneto. Also noted were the partially water-cooled exhaust manifold cast into the cylinder block, the crankcase extensions serving as engine bearers and the use of the gearbox casing as a chassis cross member. He talked of the multi-plate clutch that required dosing with oil "like the Bugatti ones we know so well". The gearbox's "reversed" gear-change pattern with the layshaft in the same horizontal plane as the main shaft and selector rods were described as typically Bugatti.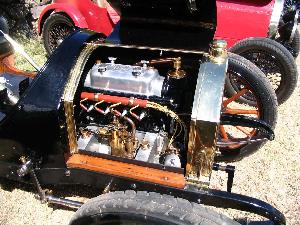 Dale's 1955 article concluded: "If Ettore Bugatti did not design it, he had enough sense to borrow most of its design points when he produced his Type 13 three years later." Though Dale's theory that Bugatti designed the small IF lacked hard evidence, it was happily embraced by others, including British technical guru, Laurence Pomeroy who, in 1956, wrote that Ettore Bugatti had designed the Isotta Fraschini run in the 1908 Grand Prix des Voiturettes.
Others disagreed, pointing to the bulky proportions of the IF's gearbox and rear-axle. In its original form, Bugatti's Type 10 had a large back-axle, although it looked different to Isotta's. The IF's bulky transmission components may have reflected Italy's general lack of metallurgy expertise at that time. We know now that the camshaft drive, gearbox and rear-axle gears in the Duckett F.E.N.C. were not case-hardening and therefore unusually large. In contrast, Bugatti had access to the latest hardening techniques - which permitted smaller components - through his association with De Dietrich and Deutz.
The early speculation on who designed the FE/F.E.N.C was dampened in March 1963 when Tito Anselmi told Hugh Conway of a conversation he'd had with Giustino Cattaneo, Isotta Fraschini's former chief designer. Cattaneo assured him that the FE was the work of Milanese engineer Ernesto Stefanini and was a scaled-down version of the 1905 Stefanini-designed Type D. He also produced drawings of the FE and F.E.N.C. signed by Stefanini. Author Griffith Borgeson enthusiastically promoted Stephanini's design role in his book 'Bugatti, The Dynamics of Mythology', having personally confirmed it when talking to Ernesto Maserati whose brother, Alfieri, had been an IF driver in the Grand Prix des Voiturettes.
Seizing on this information, some critics suggested Bugatti was therefore a copyist not a creator of the 'Pur Sang' design. Were they right? On one hand, Ettore would have known of the little Isotta Fraschini because of its extensive press coverage. He may have examined one through his links with De Dietrich and his friendship with Mathis, the Strasbourg Isotta Fraschini agent. However, more confusing information was on the way.
Around 1983, an automobile artist Dr Frederic Boissier discovered a drawing of a small IF that he photographed through a protective glass case. After doing nothing with the photo for some years, he sent a copy to Tito Anselmi, the Isotta Fraschini authority, who showed it to Griff Borgeson. Borgeson was forced to revise his earlier conviction because, he said, the drawing had "the well-known signature of Ettore Bugatti splashed across it".
He followed up by contacting two USA F.E.N.C. owners, Jeffrey Vogel and Dean Butler. After an afternoon driving Vogel's car, he left the impression that he thought Bugatti may have seen Stefanini's FE drawings or possibly an early production model when working in Milan during 1907-1908. Borgeson also discussed the drawing with Butler who felt Borgeson had become uncertain about the true origin of the FE/F.E.N.C. designs.
A year before his death in 1997, Borgeson delivered a paper at an Italian Brescia Rally. He described the Brescia as a direct descendant of the Type 13, of which the Petit Pur Sang T.10 was the prototype; he add that photos and drawings show the T.10 was a scaled-down version of Bugatti's big Deutz car. Borgeson discussed in detail the FE/F.E.N.C. "lore", noting that theEBdrawing was on graph paper and showed the longitudinal section of a racy-looking car chassis. "It is at first inspection that of the IF FE, which was also drawn on graph paper and dated 25 March 1908", he said. Borgeson added that Anselmi had pointed to an unusual difference between theEBdrawing and Isotta factory drawings. The car in the former was drawn as if heading to the right whereas all IF drawings showed cars pointing to the left.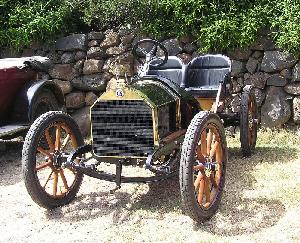 Borgeson concluded: "What does this all mean? . . . We are dealing with a group of pioneers all of whom knew each other and studied each other's ideas. Bugatti designed for De Dietrich, which provides a drop-forged link with IF, not to mention Ettore's almost certain acquaintance with Stefanini. Ettore may have been asked to do a preliminary layout for a proposed IF mini-racer. Or, he may have been asked to indicate alterations which he thought should be made to an existing proposal. There is little point in asking who might have authored individual details. Even if theEBdrawing should be a hoax, it imposes recognition of what the realisations in metal demonstrate: a close affinity of the design philosophies of two very distinguished pioneers."
In his book, The Brescia Bugattis, Bob King discounts the possibility of a hoax but speculates that theEBdrawing could be the mysterious Tipo C.T.C. once mentioned in Bugantics by Melbourne historian George McKaige. McKaige had visited the Isotta Fraschini factory in 1952 seeking information for Lyndon Duckett but found the factory almost defunct. "After showing photos of the (Duckett) car to the gentleman in charge, he led me to a large framed history placard showing the various models with details of their history." he wrote. "From it I was able to obtain the following details:
Racing Car
Tipo C.T.C.; Introduced in 1908; Bore 65 mm; Stroke 100 mm
"Touring Car"
Tipo F.E.N.C.; Introduced in 1909 (based on the racing car (C.T.C.); Bore 65 mm; Stroke 100 mm; Mudguards as standard otherwise similar in appearance".
The placard shows the CTC preceding the touring F.E.N.C., but also had the larger 65mm bore. This suggested it was a development of the Grand Prix des Voiturettes FE, possibly designed to overcome deficiencies revealed during the race.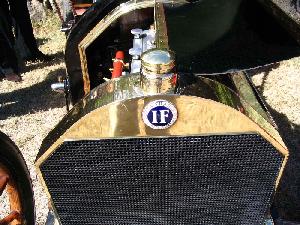 Tito Anselmi in his book on the IF marque noted: "The variations in design between the Tipo FE and the F.E.N.C. are important and confirm a dynamic atmosphere in which the speed of design work was startling. This is confirmed by drawings that show the original FE concept was being continually revised throughout 1908." However, Anselmi stated that, although he believed he had studied a complete set of IF drawings in 1976/77 when preparing his book, he did not see drawings of the Tipo CTC. He called the CTC a mystery.
The existence of a car conforming to theEBdrawing led Borgeson to suggest it might represent a preliminary layout of a racing car prepared by Bugatti or possibly he had been asked to suggest alterations to an existing proposal. The latter seems more likely. The FE's road-holding characteristics may have been found wanting during the Coupe de Voiturette, despite an attempt to redesign the rear springs prior to the race.
Bugatti's racing skills were well known. In 1902 Der Motorwagen praised his control of a De Dietrich at the Frankfurt Auto Club's races, saying: "They (the crowd) greeted Herr Bugatti, who proved himself to be a driver of the very first rank, every time he drove past the grandstand. Even the officials …. left their places in order to get as close as possible to the bends, where one could see exactly in what masterly fashion Herr Bugatti took them every time". These reports, together with his numerous racing successes, testify to his skill."
We do not know if Bugatti was considered a suspension expert during this period but he had a special interest in the subject, as shown by his patents on reversed quarter-elliptic springs. The cars he built later under his own name became legendary for their road-holding, so possibly Bugatti was an established suspension specialist as early as 1908.
TheEBdrawing indicates some typically Bugatti changes to the Stefanini design, such as the lowering and rearward displacement of the seats (c.f. the racing De Dietrich), the lowering of the chassis relative to the drive train (c.f. Bugatti's 1910 Deutz Prince Henry) and the increased drop in the front axle (c.f. the racing Type 13s surbaissé axle).
In The Brescia Bugatti, Bob King wrote: 'My hypothesis is that Bugatti may have been engaged to redesign the FE/F.E.N.C. chassis at a time when his contract with Deutz allowed him to work freelance. The alternative view is that theEBstamp means nothing more than that the drawing was seen at the Bugatti atelier.'
Bob King also considered whether any of the similarities between the FE/F.E.N.C. and Type 10 Bugatti support what he called the 'Australian legend'. One feature common is the use of crankcase 'flying buttresses' to act as engine mounts and chassis stiffeners. Anselmi states that the FE IF was a scaled-down 1905 Type D Grand Prix car. However the early racing Isottas, other than the FE, supported the engine with brackets extending from the bottom chassis rail whereas Bugatti used 'flying buttresses' in his 1907 Deutz and virtually all subsequent designs. However, this proves little as the idea was not unique.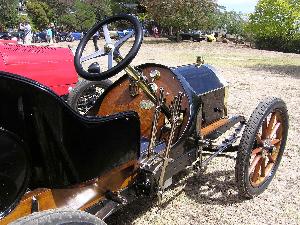 Neither was the arrangement of the constant mesh gears at the rear of the gearbox and the reversed gear-change pattern used by both Isotta Fraschini and Bugatti. In 1900 Cesare Isotta and Vincenzo Fraschini were importing the advanced Renault 3½ CV with its ground-breaking direct drive gearbox and Carden shaft drive. For their first IF car, built in 1901, they obtained a licence from Renault for his direct drive gearbox, which had constant mesh gears at the rear. At the time, Bugatti's cars were chain-driven but his first shaft-driven car, the 1909 Type 9 Deutz, was conceptually similar to the Type 10 and introduced Bugatti's trademark gearbox with constant mesh gears at the rear. Bugatti was however ahead of IF in using case-hardened gears which allowed smaller and lighter transmission components.
Unquestionably, Bugatti and Isotta Fraschini made major contributions to automotive design. It is equally true that a great many innovations came from a small group of pioneer designers, known to each other, working in the same vicinity and employed by companies with strong ties. Cattaneo, Stefanini, Coda, Maserati brothers, Bugatti and Lancia all aimed at producing state-of-the-art racing cars, so design similarities were bound to occur. Is anything different today?
It would be grossly unfair to call Bugatti a copycat. It is more likely that he had the wit to capitalise on the best contemporary ideas and improve them with his own special genius.
Based on a chapter in Bob King's The Brescia Bugatti. The article first appeared in Bugatti Club Australia's Bulletin
---
Back to the Bugatti revue
---
Vive La Marque !!