A virtual magazine for a true passion!

Editor: Jaap Horst
---
Volume 13, Issue 1b
Beguiled and Bewitched by Bugattis
Terry Cook
Ever since I can remember Iíve been captivated by cars. I was drawing them at age 6, I was building models as a kid and spending my school lunch money on car magazines. I joined the local hot rod club THE SQUIRES OF CHATHAM (New Jersey) before I was old enough to get my driverís license. I became an automotive journalist as a teenager with a regular column of my own in a national racing newspaper. When I was 21, I moved across the country to Los Angeles and began a career in automotive journalism. That led to working as the Editor of HOT ROD Magazine, at that time the largest circulation automotive publication in the world. Subsequently, after moving back to the New Jersey area, I was honored to work as a staff writer for CAR and DRIVER Magazine under the famed David E Davis Jr.
All my life Iíve been fortunate enough to go to automotive events of all kinds, all over the world. The one event that changed my life was the Reading, PA Concours díElegance in the mid 1990s. The car that changed my life was the Shah of Persia Type 57C Bugatti. Iíve been looking at cars all my life, but when I saw that car, then owned by Oscar Davis, it was as if I was hit by lightning. From that first day I saw the car to this day I believe it is one of the most beautiful automobiles ever created. Since that day Iíve felt most all other cars belong in one group and Bugattis, in particular this one, are in a very special and elite class, unique unto themselves.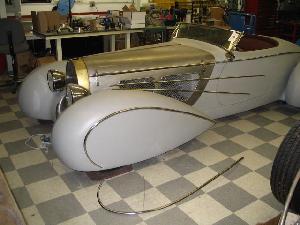 Iím not exaggerating when I say the car changed my life. Iíve started a company that is creating an aluminum bodied recreation, a ďtributeĒ if you will, to this beautiful Van Vooren bodied Bugatti. Iíve become so infatuated, Iím also gathering parts to build a second aluminum bodied Bugatti influenced design exercise, a Type 57 four passenger fastback. And with luck, by May 2008, my BMW V-12 powered boattail ďBUGNOTTIĒ will be completed and unleashed on an unsuspecting world. None of these cars are real Bugattis because I cannot afford the real thing, and because I would not dream of cutting up a real Bugatti, as that would be sacrilegious.
www.delahayeusa.com
---
Back to the Bugatti revue
---
Vive La Marque !!