A virtual magazine for a true passion!

Editor: Jaap Horst
---
Volume 13, Issue 1b
DTD Story, 28 Juli 2007-........
Gerrit Bus Story in Dutch further down the page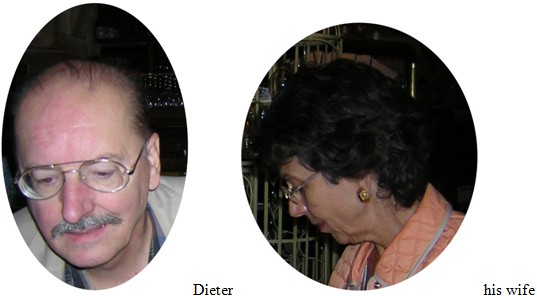 CV Dieter was born 12.03.1941 in Kathedraal, Northern Germany, He lives in Switzerland since 1947.
He did his training in the kanton Zurich, and through day- and evening-school finally became an Electronics Engineer. He worked as an engineer until April 2003.
He started model building in 1973, mainly Fiat and Abarth, from 1984 to 2001 he also made Bugatti miniatures. The first miniature was of type 56, the last of type 1 (the Prinetti and Stucchi 4-wheeler)
From 2003 onwards he started building exclusive miniatures at the request of Gerrit Bus, Bugatti boats, airplanes, trains and of course automobiles. Also in October 2005 he build a non-bugatti minature (a Mercedes) at the request of Peter Brand.
Dieter himself collects Maserati and Lamborghini, which are built by SAM LCL.
A list of miniatures further down the page.
---
CV Dieter is geboren op 12.03.1941 in Kathedraal Noordelijk Duitsland.
Hij woont sinds 1947 in Zwitserland.
Opleiding gedaan in kanton Zurich en is middels een dagschool en avondschool als Elektronica ingenieur afgestudeerd, Hij heeft gewerkt als ingenieur tot April 2003.
Met modelbouw gestart in 1973 en het ging toen voornamelijk om Fiat en Abarth .
Vanaf 1984 tot 2001 tevens Bugatti modellen gemaakt.
Het eerste model van Bugatti was de type-56 en de laatste type-1.
Vanaf 2003 op verzoek van Gerrit Bus gestart met exclusieve modellen o.a. boten, vliegtuigen, treinen en auto`s Tevens in Oktober 2005 op verzoek van Peter Brand een niet Bugatti model gebouwd. Het model was een Mercedes.
Dieter spaart nu zelf nog Maserati en Lamborghini en deze worden gebouwd door SAM LCL.

The miniatures
Bugatti; Automobiles, bicycles and engines.
Rabag model(no:11)
Engines type 16-27 and 47
OTI 125cc
record car using royale engine
bugatti/king H-16
jeep with cannon trailer
quadriycle bicycle (three-wheeler with single-wheel trailer)
tricolo EB2 bicycle(no:3)
Prinetti en stucchi bicycle (no:2)
Bugatti/Peugeot 201X
Rabag/Bugatti/rocket car
de Dietrich type4(no:4)
Mathis/Hermes/Simplex type6
Mathis/Hermes/Simplex type7
Deutz model type8
Type 10 1909
T 13
BeBe 1912 Ex. Peter Hampton – Chassis-Nr. 13.670, Kar. d´blau, schwarzes Halbverdeck, Chassis braun, gelbe Speichenräder, Eigenbau DTD 92 auf Basis Replika
BeBe 1912 "Lizenz Bugatti" - rote Motorhaube, schwarzes Chassis/Aufbau
T 13 1911 "Ernest Friderich", Kar. grün/braun (?), lange eckikge Kotflügel
T 13 Brescia "Cushman Brooksland", Kar. Grün, Start-Nr. 16, mint
Type14
Roland Garros type18
T 19 1914 Feb Indianapolis – Kar. weiß, schwarze Speichenfelgen mit weißen Reifen, DTD-Umbau
Type20 larger lion four seater
Type22 two seater
Type23 four seater
Type23 double/fiacre
T 23 1920 Aeroprofile - RABAG, (Lizenz Bugatti) – sehr selten, Kar./Scheibenräder schwarz
Type28 passagier wagen drieliter
Type28 torpédo
Type30 surprofile
Type32B brequet bugatti
T 37 1928 Kar. dunkelblau – Sitz rot, Speichenfelgen
Type38 tourisme
Type38A coupe de ville
T 39 G.P. de France – Start-Nr. 19, Kar. weiß, mit Kotflügel
Type40 Helge Hauk
T 40 Cabrio, Chassis-Nr. 40.912, Kar. schwarz-gelb, Weißwandreifen
T 40A 1927 Coupe "Art Deco" Chassis-Nr. 40.452,Kar. schwarz, Motorhaube silber
T 44 1928 Faux Cabrio Gangloff, Chassis-Nr. 44.375, Chassis hellbraun, Kar./Dach/ Speichenfelgen creme
T 44 1929 Osnabrück – Landaulet Coupe de Ville, Chassis-Nr. 44.1052 Kar. schwarz, rote Seitenflächen/Felgen
T 44 1929 Cabrio –Chassis-Nr. 44.1063, Kar. gelb, schwarze Streifen/Chassis, gelbe Speichenfelgen
T 44 1928 Coach - Chassis/Dach d´braun, Kar. senffarben
Type46 two seater
T 46 1935 Kar. Lancefield / GB, Chassis-Nr. 46.534, Kar. dunkelblau, weißer Streifen
Type49 roadster glaeser
T50T 1931 Coach Fiacre Jean Bugatti , Chassis/Kar. schwarz, Seitenteile gelb, flaches Dach, hintere Teil des Daches offen, brauner Koffer
Type55 gangloff
Type56 electrocar(no:10b en no:7)
T57C 1938 Coach Ventoux, schwarz-grün, Chassis-Nr. 57.335
T 57 1934 Fastback Gangloff, Kar. weinrot, silberne Speichenfelgen
T57 1939 Atalante, Chassis-Nr. 57.828, Kar. schwarz, rote Motorhaube
T57SC heute Vanden Plas, Chassis-Nr. 57.541, Kar. blaumetallic, gesupert
T57SC 1985 Vanden Plas, Chassis 57.541, grau, rote Sitze sehr feine Speichenräder, gesupert
T 57 1936 Coach Labourdette, Chassis-Nr-.57.457, Kar. Grün, schwarze Kotflügel, mint
Type57 brown body
T57C Heute Guillore, Chassis-Nr. 57.651, schwarz, Umbau mit neuen Speichenfelgen
Type65 four seater 5000rpm (From Jean Bugatti Patent)
Type67 aero engine
Type69 bike 50cc
Type72 cycle engine(no:8)
Type73C racewagen(no:9)
Type75 you/you two and three seater
T101 1965 "Virgil Exner", blue
Type125 drawing project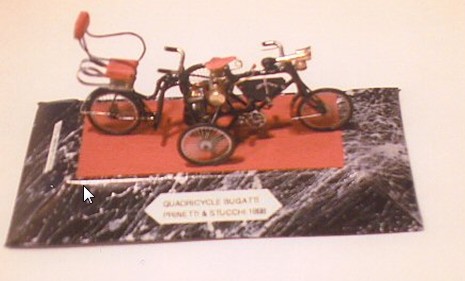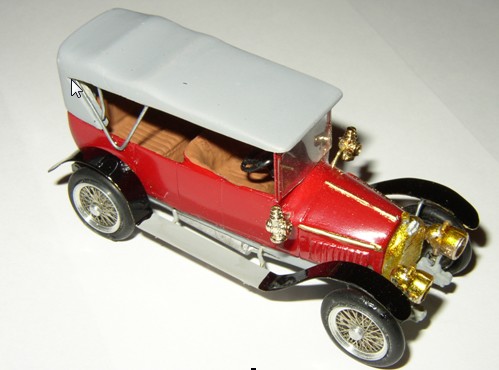 Prinetti & Stucchi Quadicycle and Peugeot (Bugatti T20)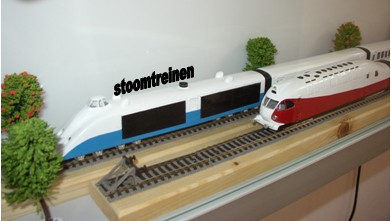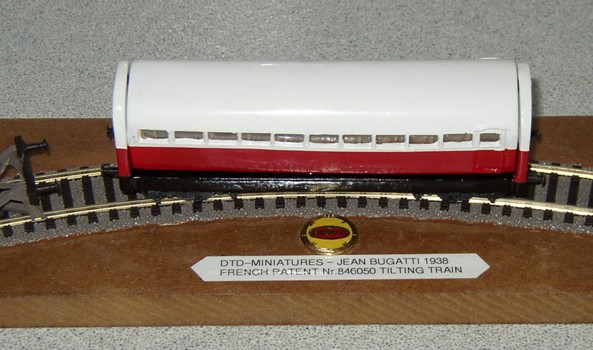 Two steam trains and the tilting train (from a Jean Bugatti patent)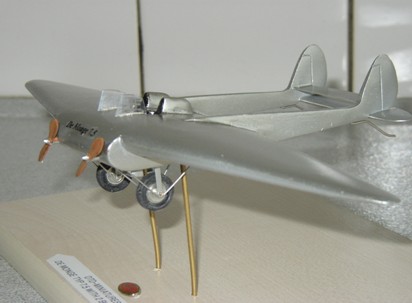 The de Monge 7.5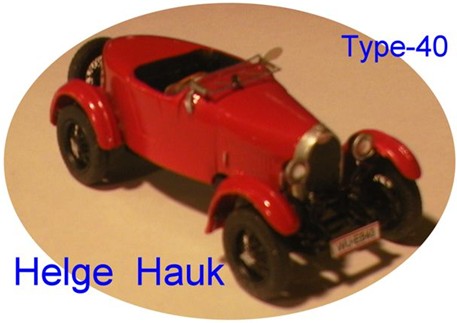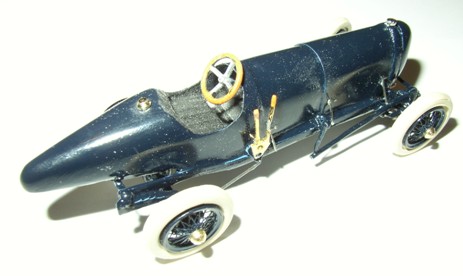 Helge Hauk's T40, and Indianapolis Single seater

Other models involving Bugatti;
Airplane de Monge type 7.5 with 2 brescia`s engines
torpedo boat 1939
niniette VI speedboat
transatlantic boat 2400PS ,140km/h 1929
excelsior bugatti racing boot nr:116
Horse-drawn carriages 3X
panorama Mulhouse
train WR triple ZZBV202 with airconditioning
tilting train (from Jean Bugatti patent, 1938)
train ,copy of the solido autorail
steam train 1000cv
steam train 2000cv with 64cylinders
royale engine for autorails
Not surprisingly, many of the above miniatures are in the possession of Gerrit Bus (almost half). Many of the miniatures are one-offs.

Non Bugatti miniatures;
Fiat targa florio
Fiat truck topolino
Fiat roadster
Fiat saloon
Lancia airway
Lancia astura
Mercedes GP 1914
---
Back to the Bugatti revue
---
Vive La Marque !!