A virtual magazine for a true passion!

Editor: Jaap Horst
---
Volume 13, Issue 1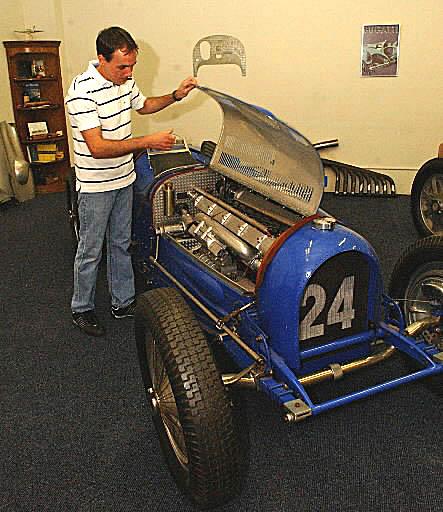 The Bugatti Joneses
Jim Parker, Photo's Leroy Burnell
Father, son recreate '30s racers from original parts
Here's a father and son legacy with racing theme in three parts.

Chapter 1: Flash back to the intensely popular racing circuit in pre-World War II Europe.

Bugatti sports cars, painstakingly crafted at a French plant by the same automotive family that Italian scion Ettore Bugatti founded in the early 1909, raced and many times won prestigious grand prixes throughout the continent. They won glory for Polish counts and other noted drivers but also tragedy as models flipped over railings on the uneven tracks.

Even then, racing was taking a back seat to something more sinister: The clouds of war were on the horizon. In 1940, the Nazis storm trooped into Paris. Bugatti closed down with an uncertain future.

Chapter 2: It's 1970. The spawling Bugatti factory in Molsheim in the Alsace region of France operated in fits and starts for 25 years, most recently housing automaker Hispano Suiza. The plant had to be cleared for a major new aircraft project, and tons of metal parts needed to be disposed of. Dealers lined up to melt the metal for profitable scrap. Also in line was J. Raymond Jones, a former General Motors designer who had since branched into restoring Cadillacs, Jaguars, Mercedes-Benzs and other luxury models. But he was there for a different reason.

Noticing a news story, he traveled to France and managed to round up hundreds of vintage engines, transmissions and other key parts, many from the experimental, prototype and actual race cars that Bugatti built in the late 1930s.

Chapter 3: Nowdays, the 81-year-old Jones tinkers in his shop on the ground floor of his Charleston area home, while son Brian Jones, the youngest of nine children who grew up on the French Riviera, revs up the lathes and metal-working equipment in another local building.

"I'm just locked in here year round," the younger Jones said. They get together from time to time to compare notes and assist each other.

What Ray and Brian Jones are doing, a little bit most every day, is way beyond reproduction, or even restoration. They are re-creating vintage Bugatti racing machines primarily from 1935-39 using those very same parts from the shuttered French factory.

"It was just a big machine shop," Ray Jones recalls. "You could see almost everything being made from 1936-38."

He has a photo, circa 1970, with wife Delena taken in the plant next to a World War II-vintage airplane with a Bugatti engine that he claims was flown as a prototype but never used in fighting.

Engines, gear shifts and other authentic parts are encased in detailed frame and chassis reproductions, designs the Joneses made from wooden skeletal frames used to cast molds for the exact shapes and dimensions.

Their work is the latest in a storied effort that included rebuilding and selling more than 80 Bugatti passenger cars and restoring engines designed for WWII era aircraft, including one that's in a noted air museum in Wisconsin. It's taken the family from France to south Florida, where Ray Jones converted an airplane hanger; then Hilton Head Island; and for the past dozen years, greater Charleston.

The Type 54 and Type 59/50B racers are exceedingly rare: one red model is one of six in the world; Brian Jones said an eight-cylinder design with lightweight aluminum and magnesium engine is the only version in the world that actually runs.

Ray Jones said the history of Bugatti from its start fascinates him, but he's been most intrigued with the almost futuristic racing machines of 70 years ago.

"I was interested in how far the Bugatti had come," he said.

Opening picture: Brian Jones displays the engine of this Bugatti race car, No. 24. It is a re-creation of a rare Type 59/50 model built about 1937.

Below: The Bugatti grille is designed to resemble a horseshoe; founder Ettore Bugatti was a horse aficionado.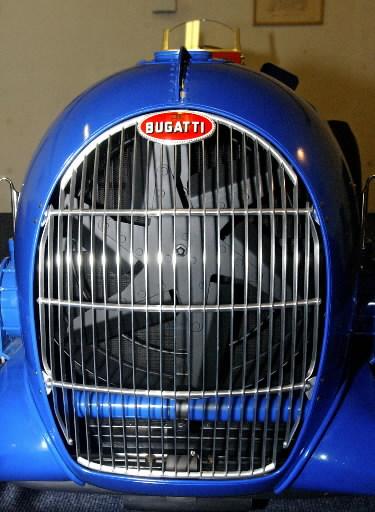 Published in: The Post and Courier, Saturday, October 20, 2007
---
Back to the Bugatti revue
---
Vive La Marque !!