A virtual magazine for a true passion!

Editor: Jaap Horst
---
Volume 13, Issue 1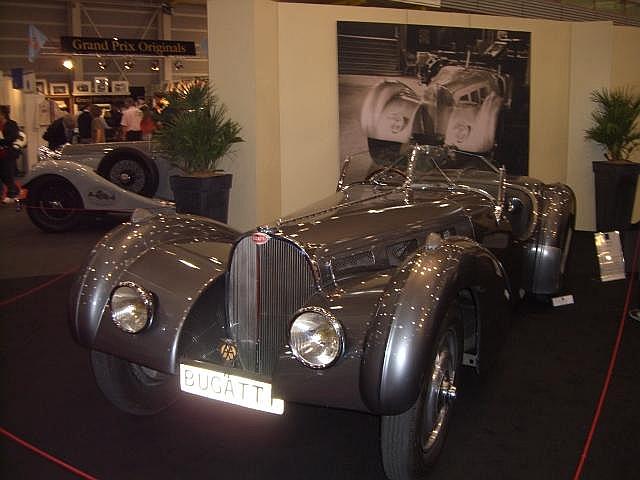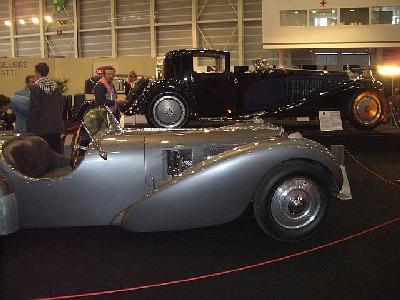 Bugattis at Geneva, 2007
Chris Gardner
14 Bugattis with caviar, champagne, and fine watches
One of the newest yearly expositions took place last weekend at the Airport Exposition Hall in Geneva. It was a fantastic event, typically Swiss in it's style and organization. The event hosted an auction of seven Bugatti's and the exposition of another half a dozen of Ettore's creations. There was a new twist concreted between the association of fine classic cars and exquisite Swiss time pieces, and that showed well with fantastic displays and an upscale style that is often found at the watch fair and the Geneva Auto Salon. Although Chopard has always been linked to the Mille Miglia, other watch makers have made a strong commitment to their association with historic cars. Bravo for them, and us, as the Champagne flowed and the caviar was for the asking - the love affair between watches and automobiles was carved out in Geneva. All in all, the entire show was very upscale and it was a pleasure to network with all the experts in a relaxing and comfortable exposition hall.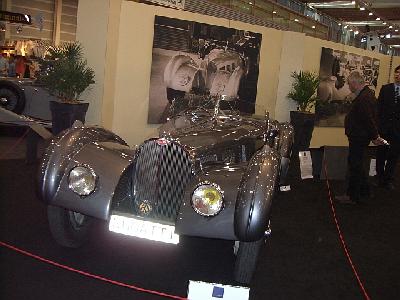 Swiss Watchmakers displayed many of their latest editions, many exceeding the prices of the Bugattis. On display were informative stands of coachbuilders, historians, model builders, rally organizations, car clubs, artist, and classic car dealers. There were also on display some fantastic vintage racing boats and outside on the airfield a fine display of late 1920's and 1930's aircraft. There also was a fashion show daily and the entire show was a 4 day event filled with all sorts of well presented attractions.
There was about 100 display stands ranging from classic car dealers to accessory providers. But there was something more relaxing about this show and something that was nearly niche perfect - a classic car related show surrounded and buzzed with Swiss watchmakers. The Swiss Bugatti Club, which has 61 members owning 98 cars was present with thier own stand. Hans Matti mingled explaining why numbers are soo important, and Pierre-Yves Laugier explaining the unique Bugattis to show attendees. Simon Kidson of Geneva had his high class display of important sports cars - he's a walking encyclopedia on the history of automobiles. Nik Harvey, likely one of the finest eyes in the classic car hobby, was chatting with Count Wustemberger about all the cars they regret passing on and Bruce Trenery, Eric Traber, Bobby Smith, Albrecht Guggisberg and Jack Braam Ruben all seemed to stay busy talking about the finest of automotive art.
The Sports Car Auction Company gathered no less than 7 Bugatti cars in their auction. A (T-something) Special claiming chassis 4894 made with a T40 chassis, a T38 motor, in monoposto format was reserved at 950,000 CHF failed to sell along with these other Bugatti's : Brescia 1339/engine 911, T57 Graber 4 door 57670, T57 Ventoux 57280, T57 Galibier #57490, and T57 Ventoux 57594, T57 Stelvio #57435. I thought the best deal was a fantastic Austin Heally 3000 that I snatched up at 50% of it's restoration cost. Although the bugatti's didn't sell on the auction block, I heard that Jack Braam Ruben took home at least one after the sale, knowing Jack likely more!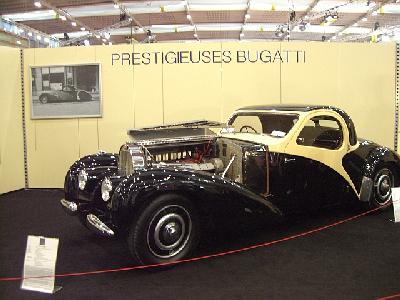 On the Bugatti front the organizers displayed 57386 Atalante, 57719 a gangloff stelvio, 46278 a gangloff 4 door (do you have that one listed Dr. Klein?), and a T57S replica (I think carved by Eric Koux according to Pierre-Yves Laugier with a raised eyebrow). The star of the show was the Royale Coupe' Napoleon 41100, it's first time in Switzerland ; (pity the Fritz Schlumpf's didn't keep it in his native land before the seizure in 1974 !)
I would mark your calendars for this event for next year.I believe The Geneva Classics www.geneva-classics.ch will be one of the finest shows in Europe and held in the most beautiful area of a Switzerland. As I live in on La Cote, there are so many fine restaurants to break away to . The first week of October is usually the vendange (Harvest of the Grapes) and combining this with a stellar classic car event is worth the trip wherever you have to travel from. Next year mark your calendars for October 2008 and don't miss it!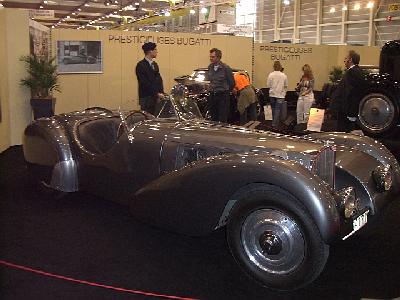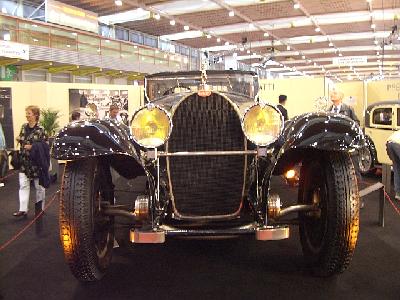 ---
Back to the Bugatti revue
---
Vive La Marque !!