A virtual magazine for a true passion!

Editor: Jaap Horst
---
Volume 11, Issue 1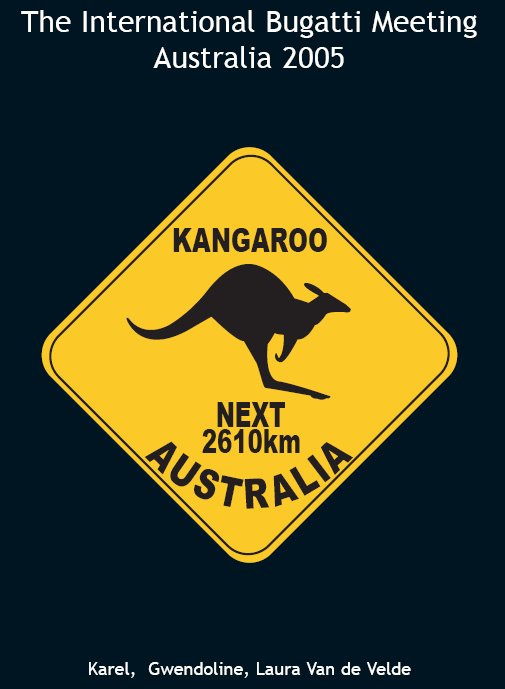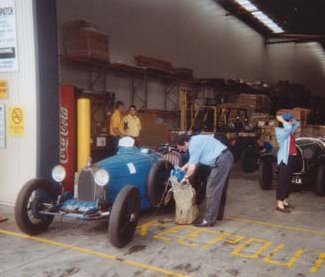 Sundaymorning, February 20, we all took taxis from the hotels to the Gibson Freight warehouse, close to Sydney Airport, where we would collect our Type 43 GS, together with the other cars that came from Europe and USA. Cars were airfreighted by Cargolux at an extremely low rate and locally, Gibson Freight, who also takes care of the Formula One Teams transport, handled the cars at costprice.
We found our Type 43 GS under a thick layer of dust as it had arrived already one month earlier. The engine started immediately - with thanks to Simon Klopper ! -. The luggage of all participants was loaded into a VW bus ( VW of Australia had delivered 3 busses and 2 Touaregs to the Organisation ) and we drove off to the hotel Milton Park in Bowral, 120 km south of Sydney, starting point of the Meeting.
First and biggest unlucky team that day were Elizabeth and Richard Longes, our hosts of the previous evening. When driving their Type 35 B, with startingnumber 13 (!), out of the garage, it broke down on the driveway before even reaching to the street.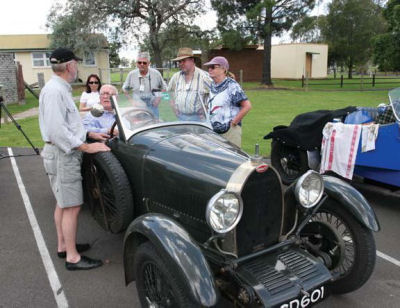 They had no other option than to take their Ferrari 250 GTE from 1961 and to push the 35 B back into the garage.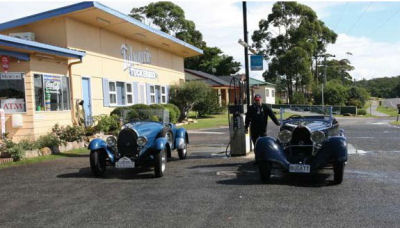 Upon arrival at Milton Park, our "reception committee" were Marijke and Guy Huet and Eja and John Van Deventer who had arrived there already the previous evening. An hour later, thunderstorms broke out over the region, heavy winds and rains, even hailstones. Luckely no car was damaged and some participants still underway, arrived safely.
During the evening we enjoyed the company of nearly all participants and we were served an absolute excellent dinner. Plus we received the usual welcome speeches, rally packs and routings. These consisted of a sleeveless jacket, sunprotection products and a high quality leatherbound roadbook and maps. An excellent idea was to put a photo of each of the entrants and not only the cars.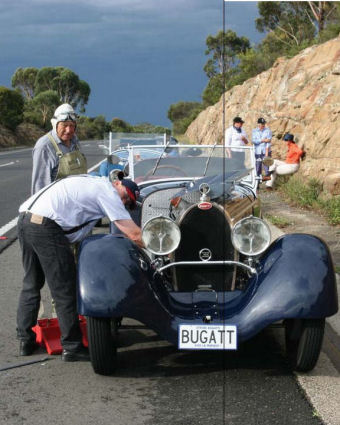 Start of the Meeting was on Monday February 21. Two beautiful trips, each circa 120 km, would take us to the coast, south of Bowral. During the morning trip, we met Frank Wetton in his Type 37, startingnumber 45 on a roadside parking just before a very long and steep descent. Frank was only to stay that very first day of the Rally.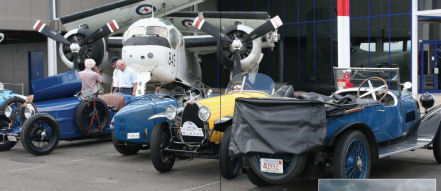 Lunch stop was at HMAS Albatross, a naval airbase with it's own museum of flight. We were the first team to arrive here after we had discovered already the pleasure of driving through nearly empty country and roads.
The afternoon trip took us through the Highlands and Kangaroo Valley, empty, twisting roads, great landscape, a steep climb and dito descent to Murramarang Resort, a bungalow park set on the shores of a beautiful bay along the Pacific Ocean. Each team was housed in a cottage with the Bugatti's parked on the driveway. Some went to swim in the ocean, others walked through the park where kangaroo's live in the wild. They come and sit on your cottage terrace, jump over the streets and the beach. They were all-over. Quite an experience.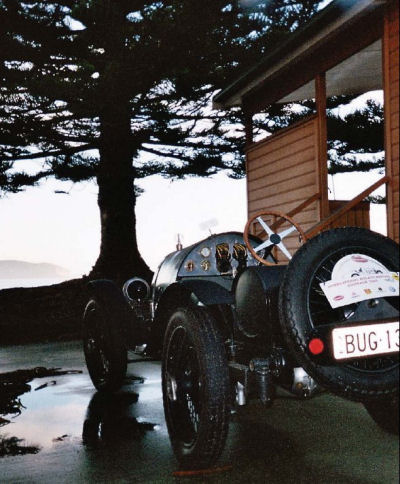 An evening BBQ by the resorts' pool was excellent and brought a lot of atmosphere. Unfortunately, the Type 44, startingnumber 26 of Bob and Ann Humphris broke down with a cracked engine block.
The next morning, Elisabeth Pende lived a funny experience. As always, she woke up very early and went for a walk along the beach. Noticing lot's of kangaroos jumping around, she wanted her husband Helmut to share this sight. She ran back to the cottage, into the bedroom, waking up Helmut, "Helmut, wake up, come and see the kangaroos". She was most surprised being in the bedroom of and waking up an american couple ! In her excitement she had entered the wrong cottage.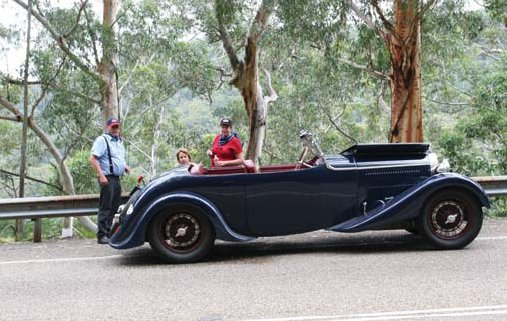 Tuesday February 22, again 2 variable drives that would bring us away from the coast to Canberra, the Capital of Australia. These trips were an absolute pleasure to drive. Nearly empty roads, a long twisting climb to begin with, than long stretches of roads through magnificent country. Fast driving here, 90,100, 120 km/h, using 3rd, 4th, overdrive and paying attention to police cars that were nevertheless around checking the 100 km/h speedlimit. Early as usual, we made a morning coffee stop in Braidwood, an isolated town that made us feel like being somewhere in the Wild West. But the coffee we were served was excellent. Lunch was served at the beautifull "Mona" country estate. The afternoon drive into Canberra was one of the most enjoyable of the Meeting. Fast, twisting roads through hillside country made it a pure adrelanine - event.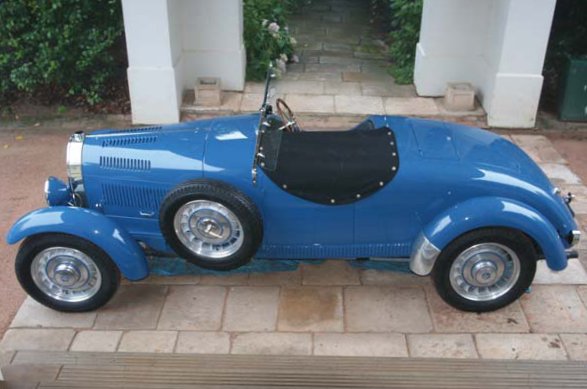 During the first kilometres of the day however, Marijke and Guy Huet had to load their newly restored Type 49 onto the trailer because of loss of engine oilpressure. The 49 2 seater being sprayed in a most original new Bugatti - blue colour, made by Guy. He has an excellent taste for colour, given the fine colours of all cars around that passed through his hands.
We arrived the very first at the historic Canberra Hyatt Hotel, where the cars were parked in the hotel's underground garage. Most teams started to realise that the Van de Velde team was used to a bit an apart timing system by leaving very early, also at lunch when most teams only arrived, we were already going away. The reason for this being that I wake up extremely early and that I prefer to drive on my own, deciding on my own rhytm. This was especially possibible in Australia where we could drive most of the time without any car in front or behind. A feeling like driving alone on the world.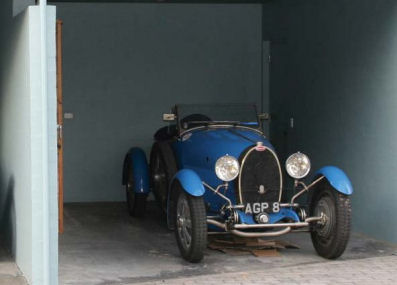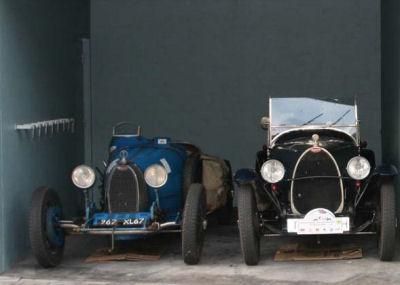 Canberra is a new town, created early 20th century, after Sydney and Melbourne could not get to terms about what city would become the Capital. The city was build after the plans of American architect Walter Burley Griffin, who had won the competition, and who was a student of Frank Lloyd Wright.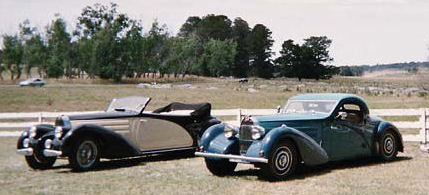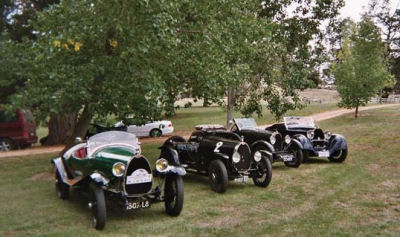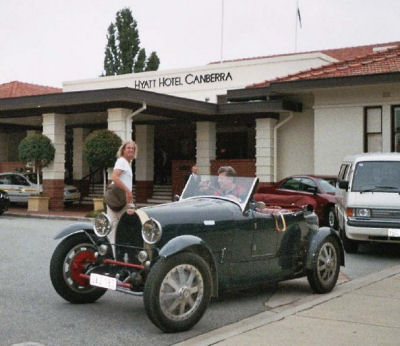 We mostly appreciated the elegance and atmosphere of the 1920ties Hyatt, we thought been arriving in a set of a Hercule Poirot movie. I was very excited so see the building, because it reminded me of the old Imperial Hotel of Tokyo, build by Frank Lloyd Wright, but sadly replaced now by a steel and glass tower. There are only photo's left of that most impressive building and it was always very frustrating to look at them. Here I could admire a building in the same style. The evening was spent at the National Museum with dinner on the terrace and the next day was a free day. This was mostly appreciated for shopping, discovering the town or repairing Bugatti's. Wednesday evening was organised at the Anzac Hall of the War Memorial.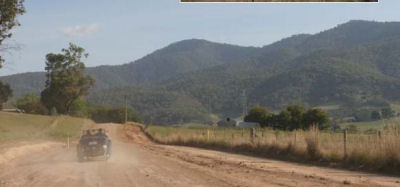 Thursday February 24, we set off for a long drive of 370 km to the Australian Alps. In the morning, first a very pleasant detour to the Canberra Space Center, known from the movie "The Dish", a thrilling and sometimes hilarious story about the first landing on the Moon. Only few people, certainly the ones who have seen the movie, know that the television images of this historic landing were nearly missed because the Canberra "dish" refused service during the crucial hours and minutes before the landing.
Lunch was organised at "Coolringdon", a historic sheep station, and we were served on the spot cooked hamburgers, salads and desert. Here Helmut Pende had to repair an oilleak on his Type 22 Brescia, startingnumber 4, but with the effective assistance of Werner Esch, the job was done within lunchtime. We cruised the entire afternoon through empty but great country and arrived at Lake Crackenback Resort where most of us had a cool beer from the resort's shop upon arrival.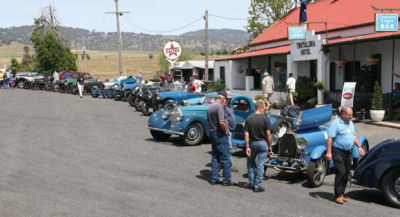 Again, we were housed in separate houses - apartments, some with their own garage !!, beautifully set along the shores of a mountainlake. This is an architectural award winning resort and also service and food were top quality.
Friday was a free day again and some participants enjoyed helicopterflights over the region, others went for a walk in the mountains, played golf, went fishing or were repairing and cleaning Bugatti's of course. A truly holiday atmosphere and very fine weather. For lunch we could order either a pick-nick box or a barbeque-set that could be prepared on specially equipped BBQ gas sets on the resort.
Saturday February 26, another very long drive of 380 km would bring us through the Australian Alps from New South Wales to Victoria Province. The "Entrée" was a very long and steep descent during which the sympathetic New-Zealand team of father and son Garry and Jason Donnithorne had to park their Type 22 Brescia, startingnumber 3 on the side of the road with some mechanical trouble.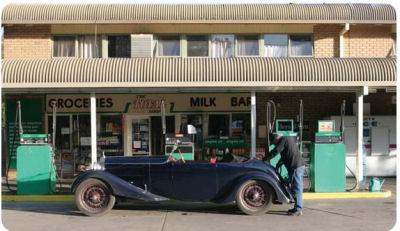 A friendly Australian in a Lexus 400 stopped to offer them help but finally advised them to work hard in the future so that they would be able to afford a decent car like his Lexus instead of their troubled poor old car! Another day, Garry told me about his Ferrari he owns in New-Zealand. I asked him if he was not too frustrated by the fact that the country has no motorways and that the speedlimit is 100 km/h. How to enjoy a Ferrari under such conditions ? No problem said Garry, I have a 2 km long private driveway and every morning and evening I can accelerate my Ferrari to the limit !
Anyway, after this descent, again very fast empty roads until lunch. We missed a right turn and found ourselves on a gravelroad. First time I ever drove the 43 on gravel and it was quite an experience "sliding" the car through the corners. It was also very hot that day and fortunately an excellent lunch was served in the cool garden of the Tintaldra Pub. This is a popular place for events to stop as the owners are great enthousiasts of vintage cars, they own a Crossley themselves, and motorcycles. Not only did they do an excellent lunch-job, they had a completely equipped workshop also and assisted some teams with mechanical trouble, for instance, repairing and vulcanising a flat tire of John Van Deventer's Type 44.
The "Maincourse" was served during the afternoon, a very long and very hot drive, and as a "Desert", a 27 km long climb up to Mount Buffalo Chalet, a 3 storey timber building dating from 1907. The sun was very aggressive and we decided to put up the roof of the 43 to protect us a bit. This was watched however by some "purists" as a horrible move.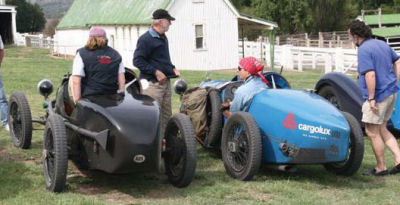 After all, the drive was magnificent but also a bit of a "Bugatti - slaughter" because 5 cars broke down.
The 57 C drophead startingnumber 34 of Jim and Martha Foght with Jim and Sharon Stranberg, cracked engineblock.
The 35 B startingnumber 12 of Des and Jeremy Dillon, broken waterpumpdrive.
The 23 Brescia startingnumber 9 of John Shellard, magneto problems, but could start again the next day.
The 44 startingnumber 27 of Stuart and Mary Murdoch, arrived on the trailer and was not seen anymore afterwards.
The 43 startingnumber 23 of Michael Gans and Nina von Stuben arrived with a "bump" in the crankcase and had to give up the next morning.
During late afternoon, we enjoyed a good beer and the fenomenal sight from the Chalet's veranda terrace and we welcomed 3 new teams who joined the Meeting here. The Type 37 A startingnumber 18 of Adam Berryman, the Type 37 A startingnumber 19 of Andrew Cannon, as well as the very fine Type 44 startingnumber 25 of Richard and Stuart Anderson, Stuart having undergone a major heartsurgery only 4 weeks before ! During dinner in the historic dinning room, we were offered a beautifully made metal Bugatti logo for each entrant.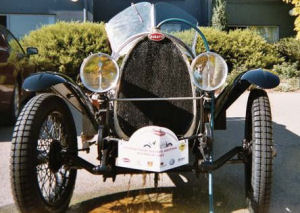 Sunday February 27, again two 150 km drives. In the morning, we had to descent again the 27 km long stretch down from Mount Buffalo, than a long and steep climb to Mount Hotham where we enjoyd 360° views over the mountains. The Brescia's, 35'sand 37's speeded up the mountain along twisting roads. In the 43, we did it a bit slower, so we let all of them pass and exceptionally we arrived one of the last teams up the mountain. But in the long and winding descent, we could have the car going like hell. Nevertheless, John Fitzpatrick, the Rally Director, passed us along this descent in his Honda NSX and was stopped a few miles further by the local police, who apparently was informed of our arrival. After all, he was not stopped for speeding but for the fact that the police officer was intrigued by the Bugatti badges on his car that did not correspond with the cars' registration. He certainly saved us from a speeding ticket!
After a short lunch, we were one of the first teams again to enjoy a most spectacular, fast and wonderfull drive to Lakes Entrance at the South Coast. Here we stayed at the Quality Inn Bellevue. Nice spacious rooms and a very large parking space, guarded at night. Food was standard, but there was an excellent floating restaurant in the harbour, serving excellent fish. Again some teams had serious mechanical problems.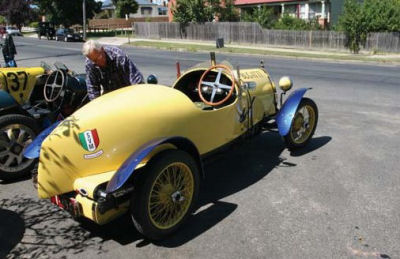 The Type 23 Brescia startingnumber 7 of Neill and Geoff Murdoch and Kate Jackson lost the left rear wheel. They were able to repair it the next day and continue the rallye.
The Type 37 startingnumber 17 of Erik Koux and Anne Lindemann, Erik bought that car in 1953, drove it since, and although a lot of repair work must have been done since, the car was never restored, arrived but had a cracked engineblock. Some extensive repairwork by Erik and helpful colleagues did not help the engine and Erik and Anne had to continue the rallye in a rental car as quite many others before them.
The Type 22 startingnumber 4 of Elisabeth and Helmut Pende arrived on the hotelparking behind Werner Esch's towing 57 Galibier, startingnumber 32.
I take this opportunity to mention Werners' great technical help and assistance during the event. Not only did he organise the transport of cars from Europe, during the Rally he was always repairing a car somewhere, along the road, on the parking. Truly a fantastic and professional teammate. Monday February 28, a free day again during fine and sunny weather at this nice coastal resort. The hotelparking was one big openair Bugatti repair shop. I took Charles and Lachlan, our sympathetic and effective luggage crew, for a drive in the 43, as well as John Shellard and Bob Humphris. I guess they all liked the ride. Here, the Type 23 Full Brescia startingnumber 6 of Peter and Janette McGann joined the event. The car only got ready that day.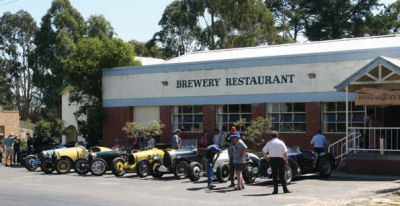 Tuesday March 1, was quite a surprise. During the early morning, when looking in our roadbook for the day, we discovered a mistake in the programmebook. Instead of the announced 320 km trip, we puzzled a total of 470 km together. And it was to be the hottest day of all with temperatures rising to 37° Celcius. Before leaving, a photoshoot of all cars was organised on the harbour parking in front of the hotel.
I set off with Guy Huet, the previous owner of my 43, and we drove it alternately.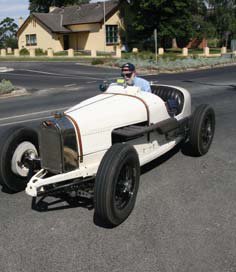 During lunch, the 37 A startingnumber 20 with independent front suspension, of Tom Roberts joined the group, as did Jim and Louise Thompson with a most original yellow and bleu "Butterfly" 16 valve Brescia, startingnumber 44. In fact, this car belongs to Anthony Molina who was a victim of the Tsunami disaster and still recovering from his injuries. A lot of other drivers and cars joined for lunch at the "Brewery".
Des Dillon, who had to leave his 35 B a few days earlier, was there with an amazing 2-seater 1910 Hispano-Suiza. Stuart Saunders' brother came with an even more amazing 2-seater Minerva with a cigar - look - tail. And John Fitzpatrick brought a beautifull and impressive Delage sports 2-seater. With Delage badge, not Bugatti badge.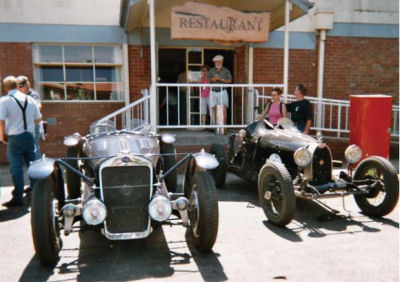 It was a very sympathetic lunch meeting indeed joined by many local enthousiasts. In the afternoon, I took John Van Deventer, who's Type 44 had broken down that morning, lack of engine oilpressure, with me in the 43 and later on John and Guy drove the car to the hotel. In the 37° Celcius - conditions, I was happy to spend some time in the Huets' airconditionned rental car. Our destination that day was a great reward for the long and hot 470 km drive.
"Moonah Links" is a magnificent golf resort along the south coast. Here we enjoyed luxurious, modern and elegant apartments, one for every team, and overlooking the golf course. Dinner at the resorts' "Peppers" restaurant was one of the culinary highlights of the Meeting. I am sure that most of us would have liked to stay here another day. Upon arrival, Erich Traber and Ursula Wittmer were most unlucky. When Erich parked his Type 57 Atalante backwards, the exhaust touched a borderstone and as a result of this "small" impact, the engine manifold broke. The Atalante had to finish the Rallye on the trailer.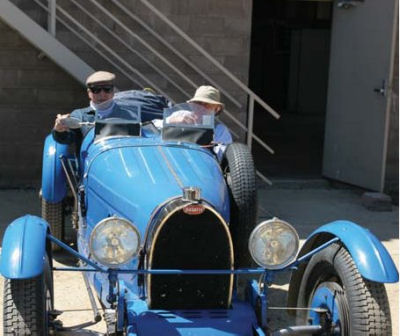 Wednesday March 2, we left Moonah Links with great sadness and took off to take a ferry from Sorrento to Geelong, a one hour crossing. Then 200 km to Ballarat, our final destination. Whow, what a drive that day. First along the coastal route, than over absolutely empty and straight roads, a last chance for magnificent speeding. Guy Huet, who drove Leon Witte's Type 51 startingnumber 31, drove all the spidernets out of the car. I guess he must have been going 140 -150 km/h. And while Guy was all smile on arrival for lunch, Leon looked a bit pale ! After lunch in "Lal-Lal", a Victorian villa set in beautifull "English" parkgardens with it's own lake, we drove the last 20 km to Ballarat, a goldtown from the 19th century.
Compared to Moonah Links, the Ballarat Lodge was a bit of a shock. Correct but small, and dark rooms were a big contrast to the splendid apartments we had left just a few hours before. But lots of space to park the Bugatti's safely.
Anyway, the Gala Diner that took place in the Ballarat Art Gallery, and sponsored by Bugatti Automobiles S.A.S. was perfectly organised in an original setting of a museum. The local brassband played the music during dinner and food and drinks were excellent. The atmosphere was very pleasant, also due to the fine speeches of Bob King, John Fitzpatrick, who had been telling us a joke every single evening of the event, Werner Esch, John Hull and not to forget the ever original and sympathetic Patrick Friedli.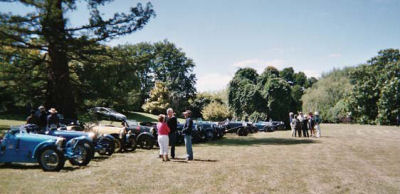 The two "EB"pins, set with diamonds, and created and offered to the Committee by Belgian juweler ERIC VAN ESSER, (www.vanesser.net) were given to respectively Anni King and Ann Humphris for their long and effective support, behind the screens, to the organisation of the Meeting.
Thursday March 3rd, we said goodbye to a fantastic group of real bugattistes and drove our car to the Melbourne Gibson Freight warehouse, some 120 km away, from where all overseas cars would be shipped back to Europe, USA and New- Zealand. Patrick Friedli's and Nelly Chevrier's 37 broke down along the motorway, but fortunately, Werner Esch (again !)was behind them and managed to get the car back on the road.
Patrick and Nelly had to catch a flight to New- Zealand, so that is why they were changing their oily bugatti outfit into a bit more decent set of clothes on the lawn before the Gibson warehouse!
We stayed another 4 days in the Melbourne area and missed our 43 already. We went back to Ballarat and visited the Gold Museum, and Bendigo, another 19th century most beautifull goldtown. Another tour brought us to Hanging Rock. In between, we watched the Formula One Grand Prix in Melbourne, about 100 km away, on the television. The Grand Prix was on air from 09.00 am to 06.00 pm, nearly every day of the event.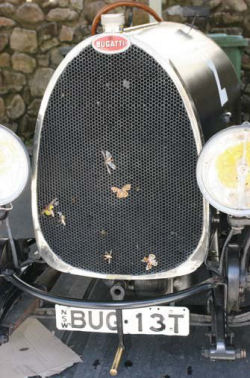 On Monday March 7th, we took a flight to Hong Kong, for me again business as usual, but Gwendoline and Laura had a great shopping experience. We arrived back home on Saturdaymorning March 12th after a 5 week journey.
Some figures.
- During 12 days we drove a total of 2400 km. (including the trips from and to the airport wharehouses)
- 37 cars were entered in the event, one did not show and eight participated partly.
- Of the 28 cars that intended to drive the entire distance, 18 arrived without major problems.
- Participants came from Australia, 17. New-Zealand, 3. France, 2. Germany, 2. USA, 5. UK, 2. Switserland, 2. Belgium, 1. Luxemburg, 1.
- Our 43 GS worked perfectly and fast. It only needed 3 litres of extra engineoil and 1 litre of extra coolant. Our collegues were most surprised that we carried nothing else, no spare plugs nor parts, no screwdriver, no tools, nothing.
- All the participants luggage was handled daily by Charles Francis and Lachlan Macadie. With an average of 40 teams, 10 days and about 4 pieces of luggage per team, twice a day, they must have carried some 3200 pieces of luggage !!

To conclude, The International Bugatti Meeting Australia 2005 was an absolute highlight. Perfectly organised in every respect, especially the overseas entrants and their cars were extremely well looked after. Bob Humphris was at Gibson Freight when we picked up the cars and John Shellard was there when we brought them back. Happily no accidents were registered. Impressive landscapes, unbelievable driving over empty, winding fast and excellent roads. Perfect weather and a very very fine group of people participating.Words cannot describe it, so this is how we looked like the entire 12 days from morning to evening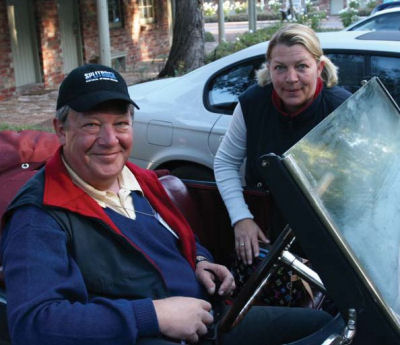 The Author in his T43
With special thanks to the Organising Committe, Bob King, John Fitzpatrick, John Shellard, Bob Humphris, Max Lane.
The technicians, Ian Ruffley and Howard Reynolds.
The luggage crew, Charles Francis and Lachlan Macadie.
The minibus commander, Cameron Mcmillan.
Finally, a list of entrants that were not mentioned yet in our story but we have most appreciated.
Type 13 Brescia number 1, David and Mary Marsh, David celebrated his 70th birthday during the event. Driving a Type 13 for 2400 km at their age ! Congratulations.
Type 13-22 Brescia number 2, Leo and Marlys Keoshian, Leo being 70 also and Marlys pushing the car when the engine fell out, we admired their courage and enjoyed their fine company. The car was put on the trailer sometimes at steep descents in order to save the brakes. They also faced quite some mechanical problems but "survived" until the very end.
Type 23 Brescia number 5, Sandy Greene and Frances Olsborg, drove a fast and troublefree rallye.
Type 23 Brescia number 8, the Rippon family, Alex and Alison and their small children Archie and Esther, and Allan, Alex' twinbrother made it through the the rallye and were very nice company.
Type 30 number 10, Joe and Cynthia Freeman, went very hard in their Type 30 and competed with our Type 43. We were quite amazed about how well Joe's car went along the entire event.
Type 35 Anzani number 11, Bob and Anni King, drove an impeccable rallye.
Type 35 B (R) number 14, Phil and Sue Schudmak finished the rallye without any known problems.
Type 37 (R) number 16, Leslie Green and Ian Surplice drove a perfect rallye, but quite on the middle of the road and were difficult to overtake!
Type 40 number 21, David Mize and Cleve Horton, David born the same year as his car (1928) and Cleve, always laughing and the car always in the same good mood.
Type 40 number 22, Peter and Christine White, Christine being the only woman-Bugatti-driver of the group, a perfect working Type 40 in an original aluminium and blue body.
Type 51 number 30, Max and Carol Lane, who gave us the idea to come to Australia but could not remember that conversation in Italy.
Type 57 TT, number 35, James and Darryl Krajancich, had to withdraw because unfortunately their car wasn't ready.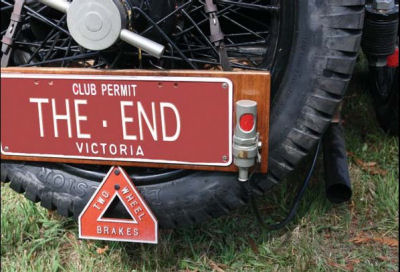 ---
Back to the Bugatti revue
---
Vive La Marque !!