A virtual magazine for a true passion!

Editor: Jaap Horst
---
Volume 6, Issue 1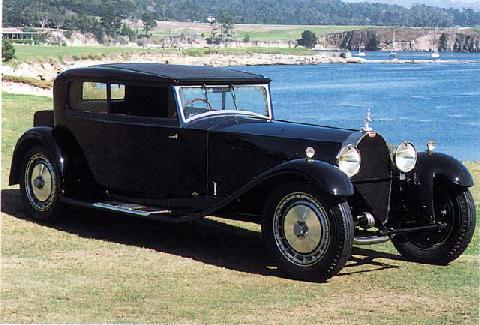 The Bugatti Experience Royale, A Tale of Astonishment
Tommy Milton III
Comments

What follows is one manís eye-opening account of the ex-LíEbť Bugatti, Briggs S. Cunningham T-41 Bugatti Royale Kellner Coach.
I had occasion to ride in the Briggs S. Cunningham Automotive Museum Bugatti Royale. The museum policy called for routine exercise of all the vehicles. It was a special treat to drive around Costa Mesa or the Museumís spacious parking lot in various cars with John Burgess, the Cunningham Museum Manager. John held court and entertained with great tales as he exercised the Museumís cars.
Mr. Cunningham would stand by in the shade and watch with bemused wonder as any of his great cars drove by. One might have thought he was an innocent bystander, an elderly gentleman dreaming of days gone by, opportunities missed.
I read many things over the years about Ettore Bugatti and his Royale; "the car made for Kings." The Royale was a huge disappointment so that I wrote it and all of its siblings off. Being young and opinionated did not help. Keep in mind, John drove most of the cars in at sedate speeds.
I was fortunate to be involved with the Cunningham Museum sale to Miles Collier in 1986. My relationship with each of the Cunningham cars and the T-41 Bugatti Royale Kellner Coach leave me a changed man.
I spent nearly two years coordinating activities at the Cunningham Museum after the sale to Miles Collier. Among responsibilities, I was instructed to study the collection and prepare a plan to repatriate some portion of the purchase price. The Bugatti T-41 Royale became central to those plans. Months of market study and interviews with a variety of specialists ensued. A plan was launched to market the Royale through Christieís, in a specially orchestrated, unique sale of "Ten Important Motorcars." This sale was to be held in the Royal Albert Hall, London.
The Royale was prepared in the Cunningham Museum shops under the direction of Richie van de Water; the Museumís accomplished head mechanic. Thorough mechanical inspections, including engine tune-up, fluid changes, and various other technical preparations were undertaken. Richie was responsible to see that everything was prepared for a worldwide road show, leaving nothing to chance.
Opinions of value for this fantastic relic ranged from $8,000,000 to $14,000,000 at the time! We were as anxious as we could be to see that the Royale was prepared to put itís best foot forward during the ensuing months of marketing appearances leading up to the November Ď87 Christieís auction in London.
Not wanting to deviate from the Museumís long-time policies, we hauled the car from Costa Mesa to Monterey, a distance of nearly 400 miles. We chose to use an open trailer behind the Museumís Ford Van. Other Museum staff prepared the tow vehicle and trailer while Richie worked on the Royale.
We traveled north on California Highway 101 to Monterey. For those of you not familiar with the route, it is California scenic beauty at its best. More importantly, it is particularly hilly and mountainous much of the way. It was a pitiful beginning in spite of our preparations. The brakes on the Ford Van were used up by the time we reached Madonna Inn at San Luis Obispo, about half way. Our thorough preparations were for naught. Brake rotors, bearings, seals and pads were all found locally and replaced in Madonna Inn parking lot. We had an audience of curious tourists, a 100-degree day, and a $10,000,000.00 car on an open trailer!
Heck, have you ever tried to buy brake repair parts in a small college town on a Saturday afternoon? That took some extra special, enterprising effort. Taxi rides, cash tips, and other resourceful efforts were employed. With brakes given somewhat of a bandaid repair job, we set off to the largest hills we would face on the northern passage.
To say that everything was riding on our safe arrival in Monterey with the T-41 Kellner Coach would be the understatement of my millennium. Imagine our sweating palms, pounding hearts and other nerve-wracking manifestations. Christieís staff, video crew, still photographers, and journalists were flying in from England with arrivals at Monterey starting the next morning and continuing throughout the week. The Royale would be demonstrated, video taped, and photographed in and around the Monterey Peninsula an d Pebble Beach for marketing purposes.
Weeks were invested conducting our in-house research and due-diligence, negotiating contracts with Christieís, Pebble Beach company, City of Carmel, local police agencies, and others so roads could be closed and various and sundry laws bent to suit our purposes.
Richie, my intrepid co-pilot and partner in crime was smiling and cheerful the rest of the drive to Monterey. I worried about the long, downhill runs we would face on the return trip to Costa Mesa. Our multi-million dollar charge on an open trailer behind a suspect tow vehicle.
We arrived at our Carmel hotel, car and drivers safe and sound. We off-loaded the T-41 Royale and parked it out of doors in the hotel parking lot, where it spent nights for the next ten days. We enjoyed dinner and wine, lots of wine, and fitful sleep.
In the coming days and weeks we were under extreme pressure to demonstrate the Royale and consummate a record-setting sale later in the year. While we were respectful of our charge, many may view our actions as cavalier. Imagine the difficulties with insurance coverage. There are many things Lloyds of London just didnít need to know, in my opinion. Late night drives in the rain in central London, hot laps at Donnington Park Circuit, yours truly driving with his recently fractured forearm in an abbreviated cast which required serious negotiations with the hospital Chief of Staff!
We used the Royale as our daily transport for the duration of our stay in Monterey. To breakfast, lunch, dinner, appointments, and sightseeing we went.
At first, other than the pressures and ego-boosting prestige of our multi-million dollar livery, the car was a huge disappointment and worrisome on the local roads. Driving around town was barely manageable. Highway 1 and 68 to and from the Monterey Airport was terrifying at first. We were not able to keep up with traffic. More than 11 litres and we could travel at 60mph! This car does not have a speedometer. Not that we needed one. The car was not able to hold its own at highway speeds.
This particular Royale was made for Ettoreís daughter, LíEbť. Ettore believed that anyone driving such a car should not be concerned with his or her rate of speed. I didnít have to worry either. We could not keep up. I was concerned that we could be ticketed for going too slow! I was genuinely worried about getting hit from behind. Little old ladies were passing us for goodness sake.
My impressions of the Royaleís road manners were in the tank. I drove an Allis Chalmers tractor on a working farm as a boy that behaved better than the Royale. I was highly distressed. I am responsible to demonstrate a car we plan to sell for millions. I need this beast to put its best foot forward. It seems a hopeless case from the moment get the Royale out on the highway. Richie and I brainstormed our way down every conceivable avenue looking for a means to circumvent the inevitable. WE were at a loss to figure out what might be done so the journalistís on their way from England might enjoy an outrageously impressive ride or drive in the Royale. I needed a sedative. My grandfather, Tommy Milton, 2x Indianapolis 500 winner, told me that Jules Goux, Rene Thomas and other Frenchmen drank champagne for nourishment during pit stops in the old days of the 500. They polished off c ases during the hours of racing! Can I possibly get away with this to either sedate myself or cloud the senses of the journalistís? Where were the old-timers when I needed them?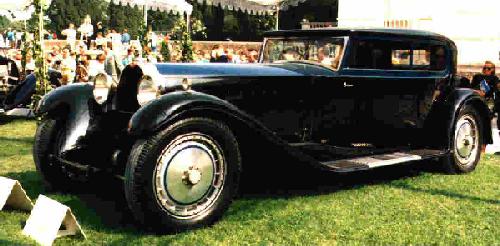 The Cunningham Royale was just not performing. We needed a miracle. We settled into a couple days of still photography in and around the Pebble Beach enclave. I awaited arrival of Christieís handpicked journalistís with tremendous trepidation. These men were to be driven around the region at their whim. WE needed them to be so impressed by the Royale that their glowing prose would guarantee a multi-million dollar hammer price when Robert Brooks gavel was to fall on Lot 10 many months later.
Many of you may know a little hill that short cuts the 17 Mile Drive leaving The Lodge headed for the Highway 1 Pebble Beach gate. I had nightmares about that puny little thing. It is a short, steep hill. A left fork off of 17 Mile Drive. Today I drive by remembering the events of twelve years ago. The Hill is puny, perhaps 150 feet up at a 15% grade. The Royale would not go up The Hill in low gear with a running start. I was stunned. What was I going to do when Doug Nye and Nick Baldwin arrived, prose in- hand?
Richie and I noodled, worried and reviewed every possible solution. Was one stuck valve adjuster the culprit? We tried every conceivable inspection, adjustment, and trick in the book, in secret, during the next couple days, to no avail. We went to great lengths to excuse ourselves with the car, tools and tricks in-hand. Nothing helped. My already low opinion of Bugatti plummeted. The great Harry Miller copycat was no good, as I suspected all along!
With no other avenue, I attempted an end-run at the two journalists, Doug Nye and Nick Baldwin. My last-chance stroke of genius! I insisted they drive the car. A chance any of us who leap at, right? That was not so. Their perception of the carís tremendous value stopped my scheme dead in its tracks. Neither of them would drive out of fear. "What if I prang this treasure?" My assurances that we could fix it if they broke it fell on deaf ears. I resigned myself and suffered some extremely embarrassing moments when they asked for demonstrations over hill and dale.
Five people in the car, including Doug, Nick, a video cameraman, still photographer. Weíre tooling along and the Brits want to go up The Hill. It was pitiful. We ran out of steam and stalled about 3/4 of the way up. They crossed themselves and attempted a mass evacuation as I gathered my wits and prepared to roll backward down The Hill.
Well, enough of that. We took off and did other types of driving the next few days. Would you believe, performance seemed to improve as days and miles passed. During yet another trip to the Monterey Airport, the Royale seemed to hold its own in freeway traffic. Another road test for Doug and Nick south on Highway 1 and we actually passed several cars. Was it an illusion? Is there truth to the lauded "Italian tune-up?"
We finished shooting still photos in the dark of night days later. Photographers were instructed to do anything imaginable to "get the shot." Why not make a late night test, alone, fortified with dinner and French wine. Dare I attack The Hill? Iíve got nothing to loose. I roared back to our hotel in Carmel, pounding on Richieís door, "the car made it, the Royale went up The Hill with power to spare."
As the days passed and the highway miles accumulated, the Royaleís performance actually improved. On the day Doug Nye and Nick Baldwin were to embark for England with only enough time to make their publication deadlines, we were able to take The Hill, starting from a dead stop in high gear. Thatís direct drive for those who donít know. We roared up and over the crest with five people in the car. Bugattiís redemption was at hand!
We ran out of gasoline during the last minute dash to get Doug and Nick to their plane. We were passing every car in sight to make the plane. We coasted off of Highway 1 at the next ramp, eked our way through a red light and pushed the last 100 yards to a filling station. We looked like the Keystone Cops scrambling out of the rolling car pushing toward the filling station with passer-by enlisted to our aid. We roared into the Monterey airport at the last possible minute, just as the gate was closing.
The Royale driving performance improved remarkably as the use and mileage increased during all our demonstrations in coming months. More than engine pulling performance improved. As the car improved, I came to understand, explore, and appreciate the Royaleís amazing capabilities and limits. We blocked some stretches of the old Pebble Beach road racing course and filmed the car tearing along at near racing speeds. Richie and I continued to nurture the car with lubricants, cleaners, and subtle adjustments.
Imagine my delight at 50-mph speeds with a car full of journalists on rural dirt roads high up in the Del Monte forest. While it is a huge, heavy car, it performed with neutral handling characteristics when pushed to the limit. Driving on the dirt roads with aggressive throttle application and a touch of opposite lock brought back memories of a misspent youth on rural Midwestern roads. Imagine a four-wheel drift at 60 or 70 mph on asphalt. It is true and it was amazing!
I was fortunate to be able to demonstrate the Royale at Donnington Park Circuit months later. I enjoyed a delightful day at full speed around the circuit. Tom Wheatcroft, the Donnington Park Circuit owner, will never forget it. I can assure you.
Believe it or not, the three ton wonder, drove like a svelte sports car. You canít imagine my surprise and delight. My experience at speed in this grand car is memorable, to say the least. I am sorry my opinion got in the way of early enlightenment. I am a changed man. I have the utmost respect for Ettore Bugatti, Jean, Rembrandt, Carlo, the factory technicians and all you present day worshipers.
The agility with which this great car, the T-41 Bugatti Royale Kellner Coach, intimidated and devoured the most challenging roads in Pebble Beach, the Monterey Peninsula, Donnington Circuit, central London, and elsewhere is nothing short of remarkable. While the pressure and responsibilities were tremendous, my enthusiasm for the job at hand prevailed. To say that I am blessed by these experiences would be an understatement.
The car would be a delight on the Colorado Grand, the Tour de France, or any type of Grand Touring event. If asked to pick any car for a cross-continent trip, the T-41 Royale would be at the top of my list. Heck, a trip to the grocery store would be grand.
I doubt that anyone will ever be offered the opportunity I was so graciously granted. If you have the chance, donít think about, LEAP at it, pay for it. To those of you who proudly persevere and protect the memories and Bugatti family hardware left in your care, please accept my appreciation and my respect. You do history a great service. © T. Milton 2000
---
Back to the Bugatti revue
---
Vive La Marque !!