A virtual magazine for a true passion!

Editor: Jaap Horst
---
Volume 4, Issue 3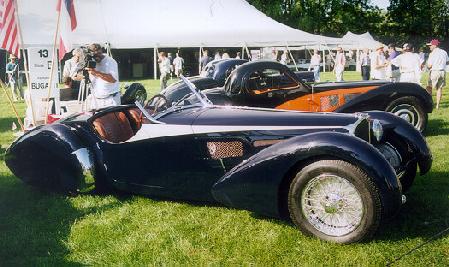 A Canadian in Bugatti Overload: Meadow Brook 1999
Steve Tournay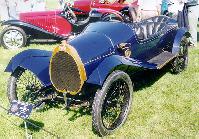 1. Oldest Bugatti in the concours; this is Andre Rheaults 1913 T.22.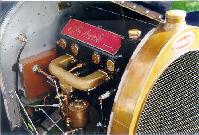 2. Engine of the T.22.
Mr. Rheault is from Camden, Maine.
I've been a car fan since birth, roughly; my first encounter with the Bugatti marque was via a Lesney diecast T.35 I garnered at about age five or so. I was born in 1965, so Bugatti the carmaker was already quite a while a memory, but over the years I became enthusiastic about these cars anyway-- though it took until 1994 for me even to see a Bugatti firsthand (fittingly a T.35B, Aido Bigioni´s car, at the Christie Vintage Sprints event that summer.) From that point until this past August 1 I'd seen just three other Bugattis: they are a singularly rare sight in southern Ontario. Then came word on The Bugatti Web that the 1999 Meadow Brook Concours, August 1 at Rochester, Michigan (about four hours from home), would feature Bugatti ...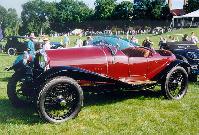 3. Alexander Leith's 1924 T.23 tourer, out of Dedham, Massachusetts.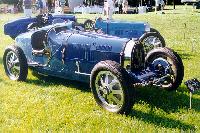 5. The immortal T.35; this is Oscar Davis' 35B from 1927, out of Elizabeth, New Jersey.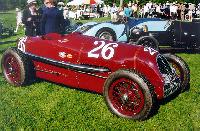 6. What have we here? This is a hybrid Indy car, mating a Miller engine with a T.35 chassis, raced in the late 30s by "Bunny" Phillips, who passed away earlier this year at age 90; his Miller- Bugatti special (almost a homebuilt T.51!) is now active in historic racing in the USA, owned by Peter Williamson of Lyme, New Hampshire. A pretty and fascinating car.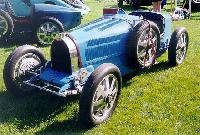 7. Don Koleman's T.51A from Salem, Massachusetts. This car set a 120- mph one-hour record at Montlhery when new, driven by Pierre Veyron; I think this is the car that for some time occupied the library in Mr. Koleman's home, so it's nice to see it in the open air!
The rolling terrain of the old private golf course behind the Tudor-style 1929 Meadow Brook Hall mansion (now part of Oakland University) had been walloped the previous afternoon by a fierce thunderstorm; sand traps were now water hazards! But on the sparkling morning of August 1, what mattered to this inexperienced Bugattiste was three of the circles of parked cars out on the fairways ... twenty-four classic Molsheim Bugattis, gleaming in the morning sun. Six times the total I'd ever seen. From the hillside behind the mansion the view took in cars I'd seen before only in photos, on television, or as models in a display case. Over there was a T.55 Jean Bugatti roadster ... a 57S Atalante and an Atlantic ... an early Brescia racer.. And completely astonishing, as I had not realized there were any survivors, a 57G "tank" Le Mans car. This was certainly the place to be ...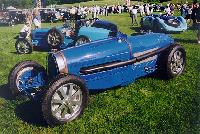 8. Rare and beautiful beast, this is one of the few T.54s built.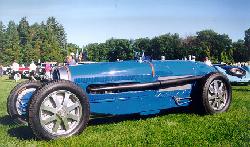 9. Another angle on the mighty T.54.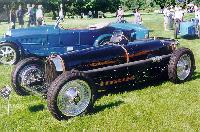 10. Almost the end of the line ... T.59 from the collection of Ralph Lauren, the fashion magnate, who owns several Bugattis. A 1934 car.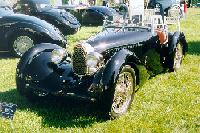 11. Racer in roadster's clothing, this tiny black diamond of a car is Arturo and Deborah Keller's unique T.37A, making its concours debut after restoration. The Kellers hail from Petaluma, California.
I made a single major mistake on the weekend: brought manifestly too little film. Ten rolls, I found out, isn't remotely sufficient for such a show. (There were some 300 classics on view, from the likes of the "round-the-world" 1907 Thomas Flyer to ´50s GM Firebird gas-turbine showcars and the brand-new Cadillac LMP racer, and dozens of splendid Packards, the other featured make at the ´99 concours.) I did, though, manage to lens all the Bugattis on show.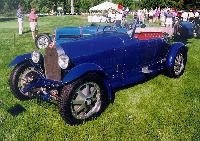 12. Henry and Gale Petronis' classic T.43 Grand Sport. The Petronises, from Easton, Maryland, brought three Bugattis to Meadow Brook.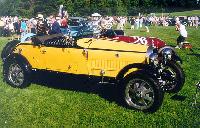 13. Don Koleman's T.43A roadster from Salem, Massachusetts.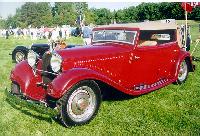 14. Majestic T.46S sport phaeton "Petit Royale", one of the three Bugattis brought in by Henry and Gale Petronis of Easton, Maryland.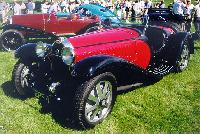 15. Some cars are almost too pretty to be real ... This is Dean Demonds Jr.´s T.55 Jean Bugatti roadster, vintage 1932, from Naples, Florida.
A large tent at the back of the field contained a fine display of automotive art, including superb paintings and sculptures in various styles (some of them featuring Bugattis), and finely-detailed handmade models (several large- scale Bugattis were on offer ... at prices higher than my own actual car! ... but what craftsmanship). Also in the tent was one more real Bugatti, a T.57 coach apparently not in the concours itself.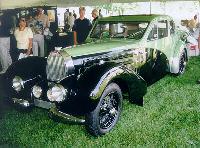 16. Inside the automotive-art display tent sat this handsome T.57 coach.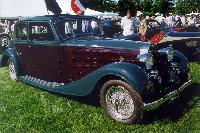 17. T.57 pillarless saloon (looks like a two-door!) by Van Vooren 1936; this is Marlene Johnson's car from Grosse Pointe Park, Michigan.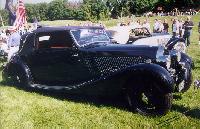 18. T.57 drophead of 1935, owned by Brian Pollock, Mercer Island, Wash.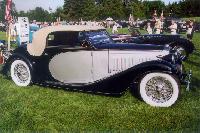 19. Terry and Mary Beth Adderley's T.57 drophead from Bloomfield Hills, Michigan. Those whitewalls really stand out. This 57 dates from 1934.
The people one meets at these events seem every bit as interesting as the cars on view. Here was a chap from Quebec, Canada, zipping from newsy conversation to conversation like a bee in a flower garden ... on the trail of rumours about the original Aerolithe T.57 which did? didn't? come to North America decades ago ... he had come to Meadow Brook from the EAA Museum in Wisconsin, where the Bugatti 100P raceplane is on show. Then there were the jaded photographers, bemoaning the lack of a Royale in the lineup (I, less jaded, didn't much care that there wasn't a T.41 about: as noted, I had too little film as it was!). I talked briefly with a couple from the Bugatti capital of Ontario, the Guild of Automotive Restorers shop at Bradford, north of Toronto, both about Bugattis and vintage aircraft (I'm also a plane buff). Then there was another couple, pleasant and unassuming, who asked me to snap a photo with the lady's compact camera, showing them in front of a gorgeous cherry-red T.46S "Petit Royale". They turned out to be Henry and Gale Petronis from Maryland, and the 46S was theirs ... and so were two other Bugattis at the concours. Another fellow I spoke with had a T.49 in work, not quite ready yet, but maybe next year ...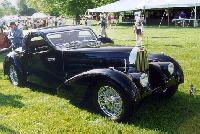 20. Actor Nicolas Cage's T.57C Atalante coupe from 1938, out of (where else?) Los Angeles, California.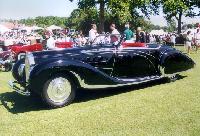 21. Jerome Sauls´ sleek 1939 T.57C, from New Hope, Pennsylvania, glides by on one of the greens after picking up an award.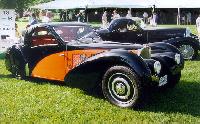 22. 1936 T.57SC Atalante coupe, one of the three Bugattis at this concours belonging to Henry and Gale Petronis of Easton, Maryland.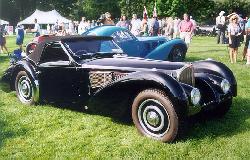 23. 1937 T.57SC Gangloff drophead from Ralph Lauren's collection at Essex, Massachusetts.
Collectors legendary in the field (Don Koleman, John Mozart, et cetera), and some famous outside it as well (fashion magnate Ralph Lauren, actor Nicolas Cage) had sent or brought Bugattis to the gathering. Arturo Keller's tiny, exquisite T.37A voiturette, wearing sleek late-30s-style roadster coachwork, was making its concours debut after restoration. But perhaps the star of the show in my view--maybe because it had amazed me by being there at all--was Frederick Simeone's 57G "tank". It proved to be the 1937 Le Mans winner, driven by Wimille and Benoist in one of the marque´s last few major race successes. Compared to some of the other cars present, the 57G was less pristine, looking very much the active racer. I imagine it must have looked quite the same at the start of that momentous 24-hour race sixty-two years ago. Time and again I walked by and just stared at it.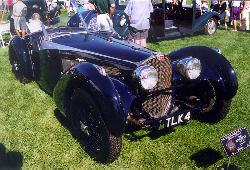 24. Looking very like the "Colonel Giles" 57, this is a different Corsica roadster, Oscar Davis' 1938 T.57S from Elizabeth, New Jersey. The cars on the left and right ARE different!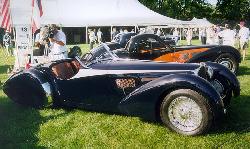 25. This is the Pebble Beach-winning 1938 T.57SC "Colonel Giles" roadster by Corsica, from the John Mozart collection at Palo Alto, California. Appearing black on TV and in most photos, it is, in fact, a very deep blue.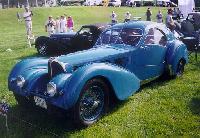 26. The exotic, much-modeled T.57S Atlantic coupe. This one is owned by Peter Williamson of Lyme, New Hampshire.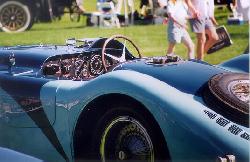 27. Wimille Was Here ... Morning sun catches the dash of the 1937 Le Mans winning T.57G 'tank", now owned by Frederick Simeone of Philadelphia, Pennsylvania. What a car to see "in the flesh".
Bugatti feature or no, I think I'll be at Meadow Brook again ... with more film on hand next time. But my marvelous spell of Bugatti overload from the first day of August 1999 will always be a grand memory. Vive La Marque!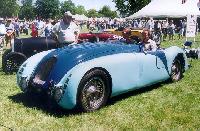 28. What a sound ... Fired up for the short drive to the reviewing stand, the Simeone T.57G is eased out of its spot in the show circle. At the same moment, a 57C, 57SC and 43 were also firing up. Wow!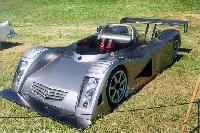 29. No Bugatti this, but here's a Le Mans hopeful 62 years on from the Wimille/Benoist win. This is the new Cadillac Le Mans Prototype sports racer. (The wheels are just a wee bit T.35ish, eh?)
---
Back to the Bugatti revue
---
Vive La Marque !!