A virtual magazine for a true passion!

Editor: Jaap Horst
---
Volume 4, Issue 3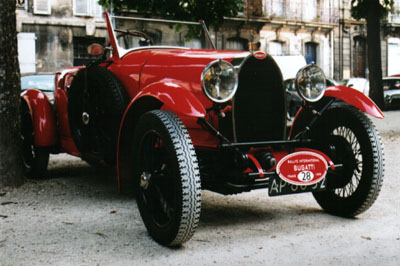 "Rooie Sien"
My view on the international Bugatti-Rally 1999, France
Mark Albada Jagersma

I wrote this little journal about the international Bugatti-Rally so that other people, that have not been participating, can enjoy a bit of what we did. Also for the people that have been attending to this rally it might be nice to hear the story from another perspective than their own. I try not to make any mistakes when I mention types, but since I am 'new', there might always be mistakes. Please feel free to comment me on that, so I can change it.

Sunday, 13 June 1999

For me, the travel started in The Netherlands. My father invited me to come with him, and Wim and Gerrit van der Boom invited my father. We were leaving on a Sunday. We had borrowed a Jeep Cherokee, and of course 'Rooie Sien' (my fathers' Bugatti is called 'Rooie Sien') was standing happily on the trailer behind the Jeep.

The trip to Poitiers went fine, nothing weird has happened. Wim and Gerrit have treated us with their stories from over the years all the way. This made the time go fairly fast, and if I remember correctly, it took us 10 hours to arrive in a little village 20 kilometers away from Poitiers. We had booked a nice hotelroom there, where we stayed overnight.

The next morning it was time to get Rooie Sien of the trailer. After checking her completely we started her, and drove to Poitiers. We were supposed to be there at 3 o'clock in the afternoon, but we arrived at around 10 in the morning. Other people had arrived as well, so we decided to go for a little drive with a few Bugatti's. We left with 4 cars, and had lunch in a small restaurant (Auberge Du Moulin) in an even smaller village, of which I cannot remember the name unfortunately. After lunch I was allowed to drive. Very excited of course, since it was only the second time for me to drive Rooie Sien. Frank bought Rooie Sien only a few months prior to the rally. Via a nice route we drove back to Poitiers, where many Bugatti freaks had assembled already. I had seen only a few Bugatti's in the garage of Klopper (Bathmen, the Netherlands Ed.), so I was really amazed when I saw so many of them together. The only problem, I had absolute no idea of which type they all were, but I was determined to know all that by the end of the rally. My camera was very busy logging as much as possible, so I could write all their types underneath them when I got back home. This would probably be the best way to get to know as much as possible about them. We had to check in under the name of Wim and Gerrit, since they had the place, but not the car, and we had the car, but no place. When the French Bugatti Club learned that we were with four in one group, they were not very thrilled about that. They asked us to wait for a while, and in the end they told us that someone had canceled. Therefore we could be 2 'groups'. We got #28, and with this plate we got nice polo's, backpacks and some gadgets. There was also a little yellow Bugatti, of which I had no clue what the type was of course, and this Bugatti seemed to have some problems. Some people took out the complete engine, to work on it. Later I learned that it was Mr. Murdochs' car, and it had severe problems. There was even a big chance that this type 23 wasn't even able to drive the rally. That would have been such a shame, since this type 23 came all the way from Australia for this rally. Many people were trying to get the 23 fixed, and skipped dinner in order to work on the car. Arrangements were already made to get the 23 in the hotel, to work on it overnight. But at around 11 in the evening it was done. It was a temporary solution, but this 23 could at least drive the rally. After dinner we met a few people in the bar, and after a few beers we went to bed. Wake-up service set at 8 in the morning, a nice time to wake up.

Monday, 14 June 1999

My father (from now on I will just simply type Frank, easier for you to read) and I woke up at 8 o'clock. We had some breakfast, and I think we were both dying to get driving, I know I did. There were no starting times, just leave when you feel ready. You only should be at lunch at 12:30. Since we left a bit after 9, we had more than enough time to drive these 75 kilometers. Lunch was scheduled on 'Circuit du Val de Vienne', a car circuit. The way to the circuit was a beautiful scenery road, with old castles and very tiny small roads. The speed was set quite low so we could enjoy the scenery. After a while, we arrived on the racetrack. Now we were to find the restaurant. After a little short discussion, we knew where to go. We were one of the first to arrive there, at around 11:30. Only Wim and Gerrit, who were behind us, didn't show up yet. We thought they were watching the Porsche-races on the racetrack for a bit.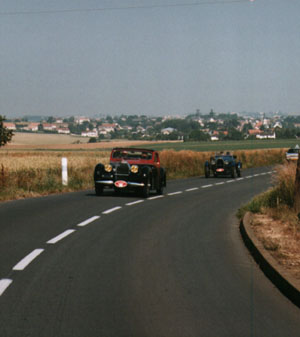 Again this was a great location to take a few pictures of course, since all the Bugatti's got lined up on 2 sides of the road. While waiting the people of the restaurant served us some drinks and little snacks. At 12:00 Gerrit and Wim still hadn't arrived. So I went for a short walk to the racetrack, to see if they were still there. After 10 minutes I learned they were not, so we were starting to get a bit worried about them. Were they not able to find the way from the racetrack to the restaurant, which was only 300 meters?

We started our lunch, which was a very nice buffet. When we were about to leave the restaurant, Wim and Gerrit showed up. They drove the wrong way, and had continued the drive of the day. They quickly ate a bit, while Frank and I rested a bit in the grass, enjoy the scenery of many Bugatti's, with on the background the sound of Porsches racing on the racetrack. It must have been around 3 that we left for hotel 'Relais Mercure' in Angouleme. Total distance to this hotel should be 80 kilometers. Frank let me drive again, and I started to get the hang of it. The first time it was not easy at all for me to change gears. Maybe my RPM got too high, or I treated Rooie Sien too softly, even though that both Simon Klopper as Frank told me to, when you hear this scratching sound when you change gears, just to pull it through. I had difficulties to do so, but soon found out, that it would make less sound if I indeed just pulled it through again, instead of trying it again. I loved the drive, and soon we arrived in Angouleme, a little bit too soon if you ask me, since I loved the drive a lot. 80% Of the parking was reserved for Bugatti-owners, and a guard with dog was walking around to protect our beauties. Freshen up a bit, and enjoying a drink next to the swimming pool of the hotel. At 7:30 we started the engines again, this time to go to 'Chateau De La Rochefoucauld', a castle 20 kilometers from the hotel. When arriving, we found out that this was a beautiful castle, which is still (since many centuries) in the hands of the same family. We lined up in the castles' garden, which again was a great scenery for some pictures. We were going to be hosted by 'Mr. Jaques Bobe, President du conseiller general de la charente. He was supposed to arrive at 8 o'clock, until then we had to wait outside. Due to French tradition, this Mr. Bobe let us wait until 8:30, which aroused some irritations, since we all were a little thirsty. Eventually we were allowed to enter, as Mr. Bobe arrived. We were treated with some cognac, and were allowed to have a look inside the castle, which was beautiful!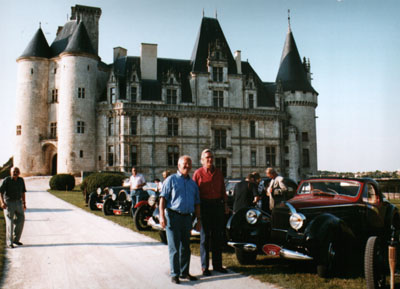 Then we were lead to the cellars of the castle, where we were having dinner. Because of its' hollowness this was a very loud happening. The food here was really nice. After the about 5-course dinner, we were again treated with cognac, and we got to see a little movie about the surroundings of Angouleme. We thanked Mr. Bobe for his hospitality, and drove back to Angouleme. The bar was closed. 160 people on the way back to the hotel, and the bar is closed. After long discussions we were able to buy a bottle of water. We sat ourselves in the bar to wait for some others. When more and more people arrived, more and more people complained at the bar being closed. At a certain moment some of us just went behind the bar, and started pouring drinks. This aroused some irritations with the barkeepers, and they decided to re-open the bar. Not too late we went to sleep, to be able to wake up at a reasonable time again.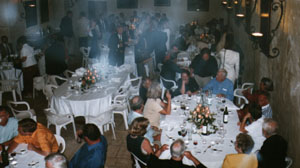 Wednesday, 16 June 1999

Wake up at 8, just like the other days. Enjoyed a nice breakfast, and left for Montagne, a 150-Km drive. Again, like all the other roads we had been driving, it was a beautiful road. When arriving at 'Chateau des Tours' we were treated with wine, since this was a wine-castle. Very nice wine, and we got a little tour in their wine-making. This was all so much more modern then I had expected! Of course I expected some modern equipment, but I was a bit disappointed to see metal barrels instead of wooden ones. Lunch was served in the garden, since the weather was superb. The lunch was again a very nice buffet, and I was told that the meant was fantastic. After lunch I rested a bit in the grass, close to the Bugatti's. The second part of the day was back to Angouleme, over another road, with a distance of 120 kilometers. Of course I loved the drive again. On the way Flip Klopper got a flat tire with their 40. GJ and Liesbeth and we stopped to help out, and soon we were ready to hit the road again. Halfway we stopped to enjoy a beer and/or cup of coffee. Funny fact is that when one Bugatti stops, almost all Bugatti-owners feel the urge to stop as well. It was only a short 15 minute stop, but it did fresh us up.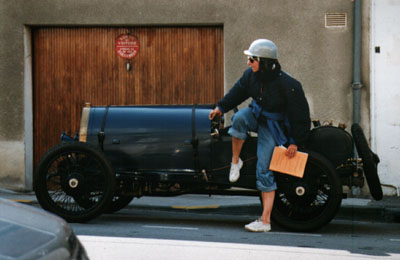 We heard around this time that somebody has had an accident with their Bugatti, and that the owners had to go to hospital, because they lost some teeth due to this accident. Gladly it was only their teeth, and not life-threatening. Back in Angouleme we quickly freshened up again, and enjoyed a little drink next to the hotels' swimming pool. At this time, my uncle Eric had borrowed our Jeep, so he and Guy Huet could drive back to Poitier, to pick up Eric's jeep and trailer. Eric wanted to leave the next day, since he had some other appointments to attend to. We left to the City Hall, where the mayor of Angouleme expected us. He invited us for dinner. We parked in the middle of Angouleme, a 5-minute walk from the city hall. On the court of the city hall were 2 Bugatti's which we hadn't seen. One was one of the first Bugatti's ever produced, so I was told. (see picture below)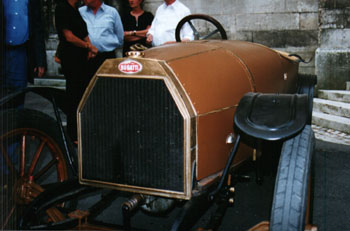 The city hall looked nice, and so did our starter, a piece of rockmelon, with parmaham on top of it. Delicious. When the main-course arrived I saw it was based on fish and meat, which are the only things I prefer not to eat, so I kindly thanked them. The waiter offered me another piece off melon instead, which I accepted, since I love melon. I was told that the fish and meat were of terrible poor quality, and the people of the city hall must have thought that we were very small eaters, since barely anyone finished more than 50% of their plate. A bit later we were on the way back to the hotel again. When arriving at the hotel, we were a little surprised by the fact that the bar was still open this time. After 1 or 2 beers the receptionist came to me to tell me there was a phonecall for me. This surprised me, since I didn't know that anyone was aware of where exactly I was. It was Eric, calling from Poitiers, to ask me how to open the glove box in HIS car. I explained him, but it didn't seem to work. He told me they would try again, and hung up. I got in a conversation with Mr. Murdoch, and Frank went to bed after an hour. Again one hour later Eric and Guy had returned, I told them I was glad it worked out after all. They told me it didn't work, and that they had returned without the trailer, since the keys of the trailer were in the not to open glove box. I laughed at this, and asked for the keys of the car. Self assured I walked towards the car, to feel irritated that the glove box wouldn't open itself for me. Eric and Guy went to bed, and I was determined to open the glove box. With the use of some tools, I managed to open the box after a bit longer than 15 minutes. So I woke up Eric to say I would quickly go to Poitiers to get his trailer. He was a little amazed to hear I was able to open the box.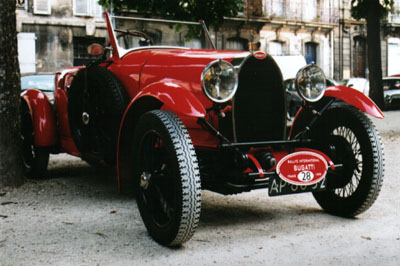 So there I went, at 3:30 in the morning, on my way to Poitiers. It wasn't until 4:45AM that I had arrived there, just to find a closed gate. I tried to open it, but it was securely locked. I went to the Park Plaza hotel to ask them if they could open the gate for me. The receptionist told me that they had no access to the parking of the Futuroscope, and that the parking would only open at 7AM. I didn't feel like waiting for 2 hours. I figured that with this 'heavy-duty' jeep I would be able to find an opening in the gate somewhere. I drove over the lawns around the gate to find an entrance, but did not succeed at it. I decided to park my car in front of the gate and sleep for a bit, and saw guards driving over the parking. I tried to get some attention by horning and flashing with my lights, without success. After 15 minutes of waiting again, I saw them coming again. This was the moment I climbed over the fence, that drew their attention indeed, and it didn't take long until they came to me. I told them the story, and it didn't take long until the gate was opened. Glad as I was, I quickly took the trailer, and left again for Angouleme, where I arrived at about 7 in the morning. My mission was accomplished.

Thursday, 17 June 1999

I had breakfast, and after I finished breakfast Frank came down as well. We heard that somebody had died in his sleep due to a heart attack. Nobody wishes such a thing to a person, especially not to a person of 29 years old, like this German guy was. We didn't know him, but still we felt very bad of course. Most German people that drove along and knew the person stopped the rally, and drove back to Germany. After breakfast, we prepared for today's drive to Cognac, a 90-kilometer drive. This was surely the most beautiful trip, with nice lakes and many old castles, ruins and beautiful fields. We had lunch in Chateau Otard, where the famous cognac 'Otard' is made. We got a tour through the process of the making of cognac, which was quite interesting. Funny and amazingly enough, they have stocks of cognac that dates from 1820. Quite old if you ask me.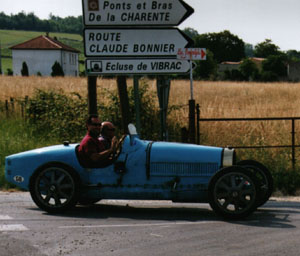 The lunch was perfectly taken care of, like every other one. I was quite tired though, because I hadn't slept all night. I decided right before desert to lie in the park to get some sleep. When Frank returned I heard I was very deep asleep, and that three people tried to wake me up, without success.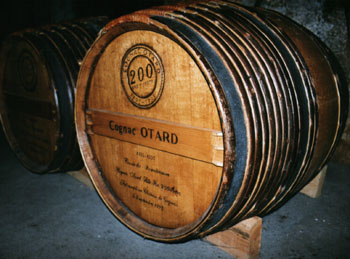 After that, we proceeded to drive to 'La Rochelle', a city at the West Coast of France. I didn't see a lot of this trip, since I was so tired that I slept on the backseat of Rooie Sien. I slept for a few hours, until Frank stopped somewhere for a refreshment. He thought he'd let me sleep a bit longer, but as soon as the engine of Rooie Sien stopped, I woke up. I had slept in the rhythm of the engine. I felt very awake, and had slept enough to stay awake the rest of the day. La Rochelle is a small city, and has many little cafes around its harbor. After a quick shower Frank and I went for a drink, and as we were sitting at a terrace, Jaap Braam-Ruben and Danielle came over to join us. After a few drinks we decided to go to 'Chez Andre', the restaurant where we were supposed to have dinner.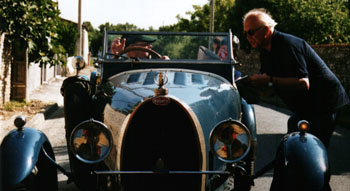 Chez Andre is a fish restaurant, so I mostly ate bread, since I am allergic to fish. Still ate great though, and I heard that all the fish was great. Everything we got was finished anyway, so that is a good sign. After dinner we decided to go for a last drink, before going of to bed. Frank wanted to show his special costume, so went to his car to take his fake teeth, his wig and cap, and went to the café where we were. He started to eat from strangers' plates and drew as much attention as possible before going to the table of our Bugatti-friends. That's where he took off his disguise and everybody on the terrace started to clap, since strangers thought he really was a wino. After half an hour we went back to the hotel, to get some sleep… the last day was about to come.

Friday, June 18, 1999

The last day of a perfect week… At 8 we woke up, like basically every day, had breakfast and left. In the morning we had 75 kilometers to drive, this time to 'La Garette', where we were supposed to have lunch. This trip was the most beautiful of all! Small roads, lakes, streams, small villages… It just had it! Some parts we only drove 10 kilometer per hour, sometimes because it just wasn't possible to go any faster, other parts to enjoy the fantastic scenery. After a nice lunch we headed towards Poitiers again, a 100-kilometer drive. Again nothing weird happened during this fabulous drive, and we arrived safe and sound at the Park Plaza hotel. In the evening we walked to 'Futuroscope', where we were having dinner. We quickly wanted to see one of the attractions, but chose the wrong one. A long and boring explanation about food and so on. Dinner was nice and well taken care of. After dinner we had a last drink in the bar, and we said goodbye to the people, since we were planning to leave early in the morning.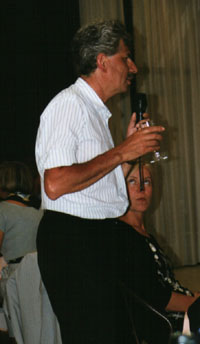 Saturday, 18 June 1999

We woke up at 8 o'clock again, had breakfast and packed up. We put Rooie Sien on the trailer, and picked up Wim and Gerrit. At 10 we were on the way back to the Netherlands, where we arrived 9 hours later.

Dad, Thank you for inviting me this week, I had a fantastic week, and if I ever get the chance again, you can count on me!!! And of course thanks to everybody that participated in the rally. I had a week never to forget! This also goes to Bugatti Club France, since they managed to organize everything in such a perfect way!

Taken from Mark AJ's Bugatti Pages
---
Back to the Bugatti revue
---
Vive La Marque !!